What do you think about when it comes to gay foreplay? Oral? Hot, deep kissing? If you're looking to find new ideas on how to lead up to the main event and make sex more exciting – and longer-lasting – make foreplay your friend. Here are our top 10 gay foreplay tips. 
We love getting down to some fast 'n' furious business as much as the next gay, but sometimes if pays off to really relish the moment and savor the build-up. Focusing more time on foreplay can lead to both longer-lasting and more passionate, personalized sex. So, next time you're making out with your man (or someone else's) try one – or all – of these top 10 tips. Discover our foreplay guide for gay men and reap the rewards in the sack!
Gay foreplay tip 1 | Relish those nipples
We've already covered the joys of gay nipple play – and they're infinite. But for this reason, you should consider maximising on those pert little titties during foreplay. So, extend nipple play... stretch it out, so to speak. You can have a good hour of fun tweaking, sucking and savouring all his chest has to offer before heading southwards. 
 
Gay foreplay tip 2 | Lap it up
Experimenting with new positions is a great foreplay idea – try something different from the usual. Why not get cross-legged and serve your lap up as the ultimate feast? The trick here is to sit very still. Your challenge is not to move a muscle (well, only the muscles in your mighty manhood).

You have several options. Firstly, you can take control. Unleash your inner Dom. Give your partner strict instructions on how to worship that undercarriage. Or secondly, surrender to your submissive side. Let your partner use his mouth and fingers to tease and tantalise your cock through your undies. If this type of gay foreplay idea turns you on, then why not throw in a few restraints as well to heat things up?



Succumb to your inner Dom/sub during gay foreplay
Gay foreplay tip 3 | Go for all-round entertainment
How about you pretend you don't have genitals. Yes, we know that sounds ludicrous (and depressing) – but bear with us here. Remember, you have an entire body to test drive for pleasure. Chest, legs, arms, feet, toes. Don't limit yourself to the D. 
 
"If you don't know where his sensitive spots are, taking the time to discover them through gay foreplay is an essential that will heighten your sexual relationship."

Resist immediately sinking to your knees like you're at an evangelical extravaganza. Find other outlets for those wonderfully warped desires. Your quest with this foreplay idea is to discover his different pleasure spots. Work your way downwards or take a long meander. The path well-trodden is not always the best. Lead up to polishing his cock. Expectation is everything.
 
Gay foreplay tip 4 | Get bookish
Need some new ideas to get that pre-cum flowing? Invest in a library of erotica. There is all manner of saucy stories you can enjoy to spice things up in the sheets. "I don't read in bed – I perform!" he may retort. Screw that! Explore a whole new world of filth – and incorporate all the role-play scenarios that can offer. Or you could try listening to some sexy podcasts together or call up a phone sex chat or read through some of the filthy fables in our gay sex forum – that should get you both leaking! 
 
Gay foreplay tip 5 | Whisper sweet nothings
Don't just use your hands but your mouth too – and not just for the obvious. Whispering is hot. Here's your opportunity to unleash every filthy word in your vocabulary. Invent language and experiment with the tone and level of your voice. Get him rock hard by telling him what you want to do him with some hot dirty talk... then go ahead and fulfill your promises! 



Talk is cheap... and dirty! Another filthy foreplay idea
Gay foreplay tip 6 | More of the mouth
How about these for hot foreplay ideas: a few perfectly timed breaths on his neck that will send shivers down his spine. A couple of exhilarating exhalations along his shaft – but no touching with your hands! Your mouth has multiple uses.
 
More foreplay examples include kissing him, licking him, then breathing on him – in his sensitive spots. If you don't know where those are, taking the time to discover them through gay foreplay is an essential that will heighten your sexual relationship. So, get ready to move your mouth and make him moan! 
 
Gay foreplay tip 7 | Get in it for the long haul
Great gay foreplay is all about creating some friction. You can start this way before you get into bed. And come to that, why does foreplay even have to take place in bed? The kitchen, bathroom, even in the car on the way to work – the choice is yours.
 
"Need some new gay foreplay ideas to get that pre-cum flowing? Invest in a library of erotica. There is all manner of saucy stories you can enjoy to spice things up in the sheets."

And how about starting your foreplay earlier on in the day? Revel in teasing him from breakfast onwards without giving in to temptation. Get each other going but don't go through with the final act before starting your day. Some more foreplay ideas could be a few discreet fingers here and there while at the supermarket or a gentle brush against his ass while queueing! 
 
Gay foreplay tip 8 | Tickle away
Let those fingers run riot. The tingling sensations brought on by tickling in foreplay can drive him wild and send powerful signals to his cock. A few foreplay ideas could be to tie him up – or down – and get those hands wandering around his bod. Or try blindfolding him and exploring his trigger points – not being able to see will heighten his senses and build more excitement!



Try fingering him in a different place for once!
Gay foreplay tip 9 | Channel your inner lap dancer
We've all seen those impossibly beautiful Brazilian go-go boys dancing in the bars. Just look at them go. How do they do it?  Indulge in your craziest fantasies. And best of all there's only your partner watching you — no need to be self-conscious here. Unleash your inner go-go boy, gyrate those hips and flex those muscles and put on a wild, lurid show for him. If nothing else, it will laugh him into the sheets and having good fun together is always sexy.
Gay foreplay tip 10 | Turn into a filthy scrubber
Cleanliness is next to godliness, they say (but maybe not if you worship at the altar of the great spam javelin!) So, for our final gay foreplay tip, try surprising your partner in the shower with a sexy scrub down. Soap up a nice, big sponge in a lather and rub his entire body from head to toe. Give him a good going over, massaging him and really giving him a treat. The sensations and the wet, skin-to-skin contact is a real turn-on. The rule here is to get clean to get dirty. And if this foreplay idea gets you so horned up that just end up fucking there and then in the shower, you can at least just cleaned up right away again!
 
Takeaway: gay foreplay ideas
Some rough 'n' ready sex is great now and then but really taking the time to indulge in foreplay with your fella(s) can help you learn more about what turns each other on, adding a new dimension to your sexual life and spicing things up. Try some of these foreplay ideas and let us know what works best for you. Ready and suitably rampant? Great. Now let your frisky foreplay begin! •
What have we missed? Let us know your top foreplay examples by commenting below.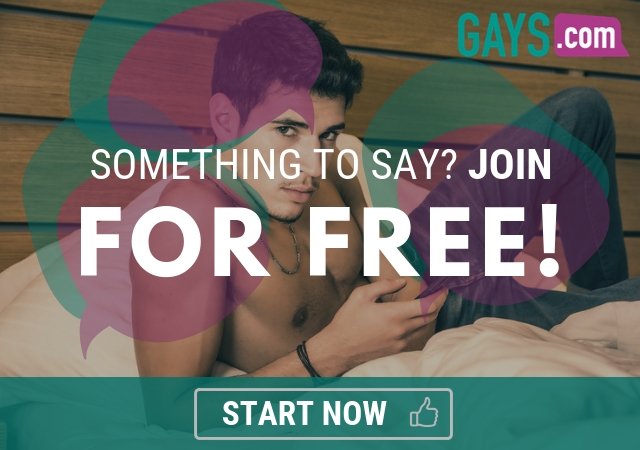 Images: model released from Shutterstock
1