There are few things gay men relish more than the ancient and sacred art of fellatio. But how do you become a master at giving good head?

Alex Hopkins

shares his 11 top tips on how to suck a dick like you mean it...
Giving and receiving blowjobs is probably a favorite hobby of many us. It doesn't matter whether you're top, bottom or versatile – pretty much every gay loves to suck dick and enjoys having theirs blown too. Of course, that's only if the person doing it really knows how to give good head – and believe me – there are plenty that don't.

From half-hearted slurping to the overuse of the pearly whites, getting a bad blowie sucks – and there's nothing more cringeworthy than being told you're rubbish at giving blowjobs. So, if you want to know how to suck a dick in style and ensure that you're both loving every minute of it, we have all the advice you need to know. Believe us: we are experts at giving good head – years of practice an all that. 
How to suck a dick: 11 tasty tips
As well as the practical side of dick sucking technique, enthusiasm and communication skills are two other key factors you need to bear in mind when it comes to giving good head. Think about it. No one wants to be sucked off by someone who looks like they would rather be doing the dishes. Even if you're not the hugest fellatio fan (er, who are you?), you need to show him that you are. Make him believe that you are living your best life while blowing him off. 
Secondly, communication. As well as talking dirty and showing him slutty eye (more on that later) take note of his reactions when you're sucking his dick. Look at face to see if he is loving it and listen for moans (or pained sounds). Or just be upfront and ask him what he likes. So, without further ado, learn how to really blow his mind – and his load – with these 11 tasty tips!
1. Spit 'n' polish
Let's be clear from the start when it comes to giving good head: nothing less than the most thorough working-over will suffice. No half measures. Because there are few things more disenchanting than a decidedly lacklustre cock polish. Guys that reach for your cock with a look of abject fear should be banished. Only the wildest blow job is acceptable. But for this, you require plenty of lubrication, e.g. spit. Imagine you're sucking the chrome off a tailpipe, and you're on the right track.
 
2: Give a blow job with a bite
Good sex includes an element of surprise. So, another top tip on how to suck a dick properly is to defy his expectations. Push the boundaries. Vary those tongue lashings and even consider using your teeth – though carefully. Start slowly with a light nibble and watch his reactions to see if he's into it. 

Get your teeth to work around his bellend combined with a few impeccably timed tweaks along the shaft. Use your tongue like a webbed dart teasing his piss slit (if he's into sounding then he will definitely love this one). 

Giving good head should result in a face full of cream! shutterstock/Estrada Anton
3: The taste sensations
OK, before we talk about more about how to give good head, a word on personal hygiene. Depending on his odour down there, a frank conversation may be required (or at least a sexy shower together before the main event). But it's horses for courses. There's no denying that for some the musk of man meat can be very hot.

A bit of post-gym sweaty cock gets many of us gagging to get on our knees and suck dick. But if that smell is heading into brie territory then that's probably where most of us draw the line. Whatever you preference, when you're sucking his dick, leave him in no two minds about how good he tastes.
4: Your mouth has other uses
Sucking a dick isn't just about your suction skills. Deploy some unabashedly dirty talk while you're slurping that gherkin. Whisper in his ear and tell him what you're about to do. Watch him twitch and squirm and see his cock throb. Tell him you love how his spunk tastes; that you wanna empty his balls and swallow his cum. 
 
"Giving good head starts before you start chomping at the bit. It can even begin while he's still dressed. Sink to your knees and start running your nose and mouth around his stiff dick."
Use the rest of your face too, adopt your most seductive or filthy expressions and use your eyes. Giving good head is also a about communication. Guys need to see that you're totally loving gagging on his cock and maintaining eye contact while you're blowing him off is a great way to do it. 
5. Savor every moment
When it comes to oral sex, duration is everything – it's no crazed sprint. At least it certainly doesn't need to be. Think like that, and you'll immediately alleviate performance anxiety. You need to take your time and really get into sucking it; giving good head starts before you start chomping at the bit.
 
Indeed, it should even begin while he's still dressed. Sink to your knees and start running your nose and mouth around his dick while it's still in his jeans. Rub your head against his cock and make it as stiff as possible. Anticipation is everything. See if you can get him to leak out some precum through his undies. Then, when you finally reveal his throbbing dick, go at it like a major event. Pretend you're unveiling some rare artefact (he'll love your reaction). Gaze upon it in awe. Get him relaxed and raring to go.
6: Savor his sack
Giving great head isn't just about sucking dick. You also need to work his balls too. Indeed, a lot of guys love getting their nuts played with – some more than others (if his balls are overly sensitive you will soon find out). Lick them, sniff them, suck them (one, or maybe two if you can fit both his balls in your mouth).

If you have a shaved head, rub it against his sack, running from the crown of your head down to your nose and mouth  – a lot of guys love feeling the stubble being rubbed against their nuts. Then, after you've worked his balls up he'll be gagging for you to suck his dick. 
7: Blow job – the clue is in the name
So, why is it called a blow job? Well, this is one of the great mysteries of all time. However, in the 17th century to "blow" meant to bring someone to orgasm. But how many people actually blow? Not many, one would think. But it's time to change that. Pucker those lips up and blow. You can use air to vary temperatures and sensations on his dick and balls. A few greedy slurps followed by a flurry of air can leave him in jitters.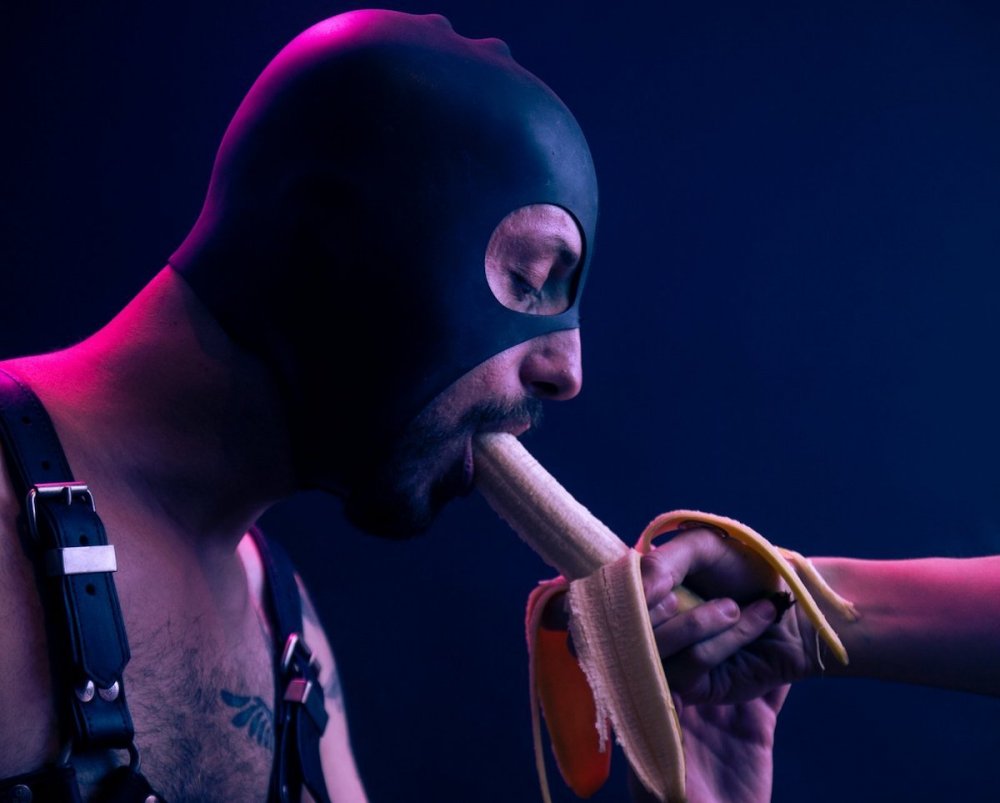 Sucking dick: going deep will drive him bananas! 
8: Finger his frenulum
The frenulum is a fancy word for the underside of the head of a dick. It's the most sensitive part of his dick. And it's waiting for you to do your worst! Flick away – use your tongue and fingers. Start by caressing it lightly and teasing the area before going full throttle. Tease this area for several minutes before putting the weapon in your mouth. Be careful about using your teeth here though as it's a very sensitive spot. 
9: Say no to 69'ing
"Wine me, dine me, 69 me," so the song goes. But in practice, when it comes to giving good head, for two guys the 69 position can be extremely awkward – to both get into and then maintain. It's more likely to see you choking or falling off the bed. If you can get it right then great but you may find it easier to stick with the most comfortable positions. You'll probably come up with some fresh ones of your own.


10: Go deep
There's something almost feral about deep-throating. You'll hear countless gay men boasting about not having a gag reflex. Many of them will be lying. Most mere mortals possess a gag reflex. But deep-throating is not for everyone and don't feel you're obliged to do it. If you do, it takes practice. Start gently; try not to feel you have to push yourself out of your comfort zone to satisfy him.
"When it comes to how to suck dick, duration is everything – it's no crazed sprint. You need to take your time and really get into it."

One common technique involves you lying on a bed on your back with your head right off the edge of the bed. This gives your partner a good angle to enter and thrust into your throat. But as deep throating restricts your breathing, it's a good idea to signal to him when you can't take any more (perhaps a sharp slap on his butt cheeks). Whatever the deal, giving good head should provide you with pleasure too, not just him. 
11: Go full sub
After plenty of experimentation, you may want to go to the next level. Add some kink into the scenario. Unleash your inner sub with some hard 'n' fast face fucking. Face fucking is all about control or relinquishing control. Your mouth is being reduced to little more than a hole for him to jack off into. If you're into submission, you may just love him doing what the hell he wants to you.
 
The bottom line: how to suck a dick
Learning how to suck a dick is probably one of the horniest lessons (well, it certainly beats trying to learn German). Giving good head is about technique, enthusiasm and communication. Try out some of the suggestions here and see what works best for him – and for you. Stay slurpy! •

What are your top tips for giving good head? Let us know what we've missed when it comes to how to suck a dick in style. Share your tips 'n' tricks with the community below...
Main image: shutterstock/HD92

1