Who hasn't, at some point, had fantasies about being controlled or controlling someone else? The queer scene is full of opportunities for those into gay bondage

 and BDSM 

– but how do you start exploring your kinkier side? This guide from

HairyHiker

will kick you into shape!
Have you ever jacked off thinking about your partner cuffing you up or slapping your face or butt during sex? Or, conversely, maybe the idea of doing exactly those things to your partner or hook-up gives you an instant boner. If so, then you might be ready to explore certain aspects of gay bondage and BDSM to take your sexual pleasure to another level. 

However, if you're new to the gay BDSM and kink scene, you may have a few questions or doubts before you're ready to dive fist-first from vanilla into the world of kink. Fret not: our beginner's gay bondage guide will give you an understanding of the most common themes in the gay BDSM scene and give you the confidence to further explore your bondage kinks in a safe and sexy way.
Gay BDSM and Bondage: the basics
OK, so what exactly is BDSM? If you didn't already know, BDSM is a mix of acronyms that stands for the following: Bondage and Discipline; Domination and Submission; Sadism and Masochism. More widely, BDSM is a umbrella term that represents a wide range of sexual play, behaviors and relationships that are focused on power and control, and subverting those dynamics.

Gay BDSM: Don't fight it, feel it! shutterstock/David Tadevosian
Let's take a quick look at breaking down those individual terms within gay BDSM and gay bondage before moving on to the juicy details of what it can involve: 
 
Bondage The simplest form of bondage involves being tied-up, or tying up your partner. You can use common, beginner's tools such as handcuffs, ropes, tape, etc. Or you can push things further with restraints such as chains, cock and ball cages, rubber masks, and other kinky playthings.
 
Discipline Have you been a naughty boy? In the gay BDSM scene, discipline involves one partner conditioning another to behave to their liking through both punishment and reward. For example, a dominant top may deny you his cock until you get on your knees and beg for it, as he demands.
 
Domination and Submission Indeed, a dominant partner (dom), controls the submissive (sub). Not all tops are necessarily dominant (thought this is often the case). Likewise, not all bottoms are 100% submissive (some would even argue that power bottoms can, in fact, be more dominant themselves!).
 
Sadism and Masochism Sadomasochism or S&M involves pain and pleasure. If you get off on inflicting pain or humiliation, you're a sadist. If you prefer to be on the receiving end, you're a masochist.
Gay bondage and consent
Another essential principle when it comes to gay BDSM and gay bondage is consent. Whatever scenarios you and your partner(s) carry out – especially if they end up developing into the rougher side of gay bondage play – should be discussed in advanced and agreed to.
"In the gay BDSM scene, discipline involves one partner conditioning another to behave to their liking through both punishment and reward."

Furthermore, the use of safe words – words you use when you want to stop the sexual practise you're involved in – are essential if you're playing with non-regular partners. Even if you're new to gay BDSM and fooling around with your fella, it's still a good idea to set boundaries in case one of you gets carried away and the other is not feeling comfortable with what's going on.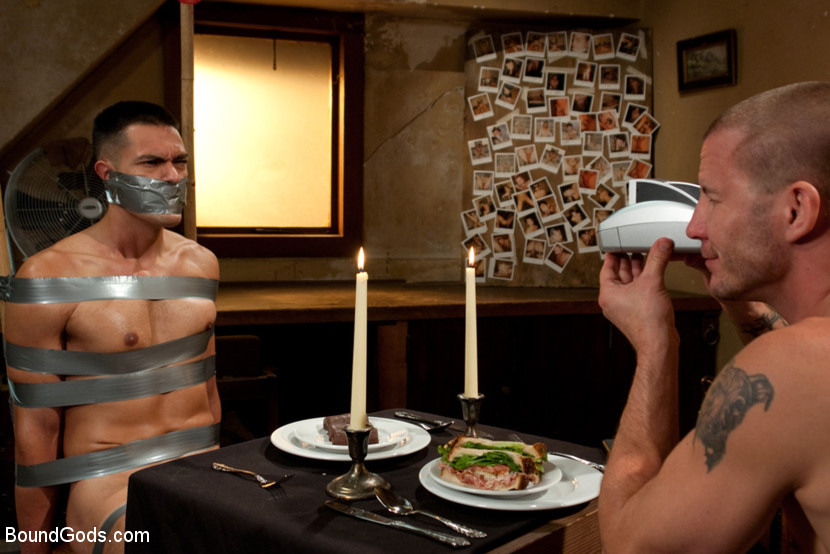 Gay S&M and bondage: tastes good!
Gay BDSM: a beginner's guide
Bondage and BDSM has long been a part of the LGBTQ+ scene, so it's only natural for you to be curious about getting involved in it. For example, men's leather bars and communities — which many consider to fall under the BDSM umbrella — became safe havens for queer men in the 1950s and are still popular today.

Read on to discover how to take your first baby steps with gay BDSM, and if it sounds horny then check out our full list of gay fetishes and BDSM kinks for more bondage-for-beginners ideas! Add them to your profile and connect with others into the same fetish. 




1. Dom and sub

As previously mentioned, dominance and submission are two vital components in gay BDSM, where one partner is psychologically and physically submissive to the other. It's up to you how heavy your scene is; we're talking everything from a few light facial slaps to a guy who is sucking you off to trampling over a naked body in six-inch high heels – and much more besides.
But remember, everything should be built upon trust and agreed boundaries. Think you'd enjoy being both dominant and submissive? When you can take on either role you're what's known in the gay bondage community as a 'switch'.


2. Spanking
You don't have to be a BDSM expert to understand what spanking is about. In fact, even the bondage beginner's among us may have indulged in a bit of light 'whip crack away' in the bedroom. A few well-aimed slaps on the buttocks, thighs or face can really heat things up.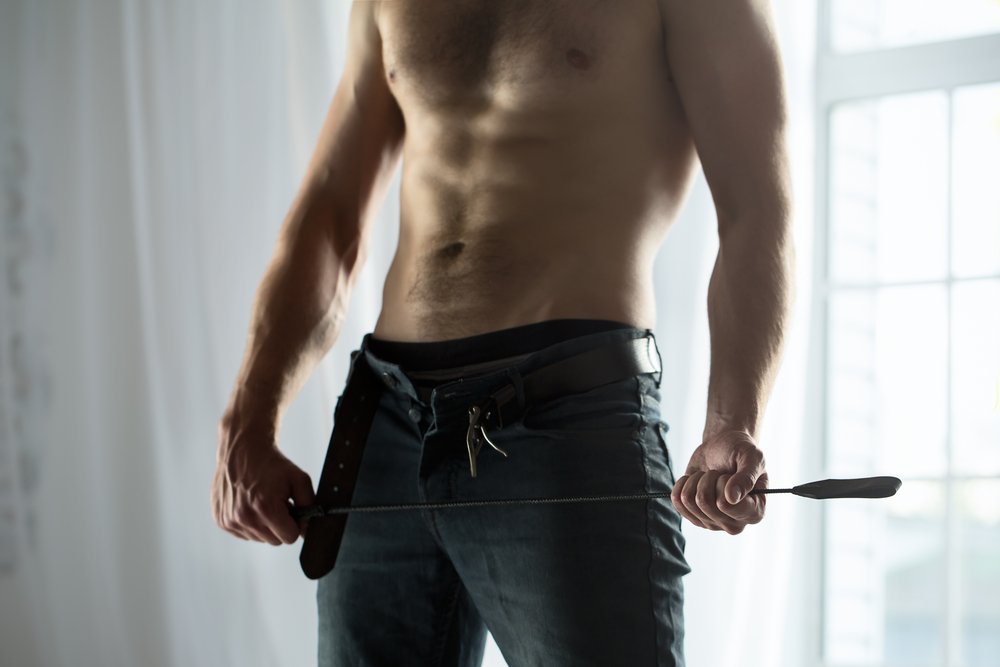 Spanks a lot, sir! shutterstock/bezikus
 
But for those kinksters that decide to explore the spanking scene in more depth, there are any number of paddles and belts that you can put to good use as you master your technique. Some devices lay at the other end of the gay BDSM spectrum, like studded paddles or whips such as the cat o' nine tails. The heavier spanking scene can often be referred to as corporal punishment or impact play.
"Dominance and submission are two vital components in gay BDSM, where one partner is psychologically and physically submissive to the other."

And, if you find yourself enjoying giving or receiving pain, you could incorporate a little biting or wax play into your sex scenarios as you get deeper into gay BDSM and bondage.  




3. Scarves and ties
Fancy being tied up and used by your fella (and maybe by some of your mutual fuck buds?). Then start to explore the idea of restraints. As a gay BDSM beginner, you can start gently and use things you already have around your home. It could mean using scarves, ties, socks... even the kitchen tea towel if you're desperate! Experiment and find out if you like before tied up before investing in pricier stuff. There are a whole heap of restraints on the market, from collars to cuffs to harnesses, and everything in between. 
 
4. Handcuffs
Who hasn't dreamt of a wild encounter with some super-hot cop down a back alley? "Oh, officer! Cuff me and take me across the bonnet with your huge truncheon!" Handcuffs are your next step up after experimenting with scarves and ropes and can be trusted to spice things up in the bedroom.

MORE LIKE THIS:
They can also be a kinky way to incorporate some gay roleplay into your experimentation with BDSM and bondage. Just make sure your headboard is robust, agree on boundaries, and – for God's sake – don't lose the keys! If you do, you may end up having to call out the fire brigade... Well, on second thoughts...
Toys for boys: some gay bondage implements shutterstock/happy_e
5. Blindfolds

Blindfolds give you a license to let your fantasies run wild, and the element of surprise they can involve is a huge turn-on. By allowing yourself to be blindfolded, you're shutting off one of your most vital senses and putting yourself in the power of another. That mixture of expectation and vulnerability can be thrilling. In placing yourself in the realms of the unfamiliar, blindfolds also heighten all of your other senses, allowing you to discover and explore a whole new world of eroticism.
"Think you'd enjoy being both dominant or submissive? When you can take either role you are what is known in the gay bondage community as a 'switch'."

As a sub, you could turn up the kink factor by wearing a blindfold and letting your boyfriend invite a multitude of guys around to have their wicked way with you... with you having no idea what they look like. If anonymous play turns you on, you could also try this if you're single. Just make sure that you agree on boundaries before being plunged into darkness.

 Blindfolds are a cheap and fun way to play around with gay BDSM. Don't have one to hand? Improvise with a folded t-shirt or towel.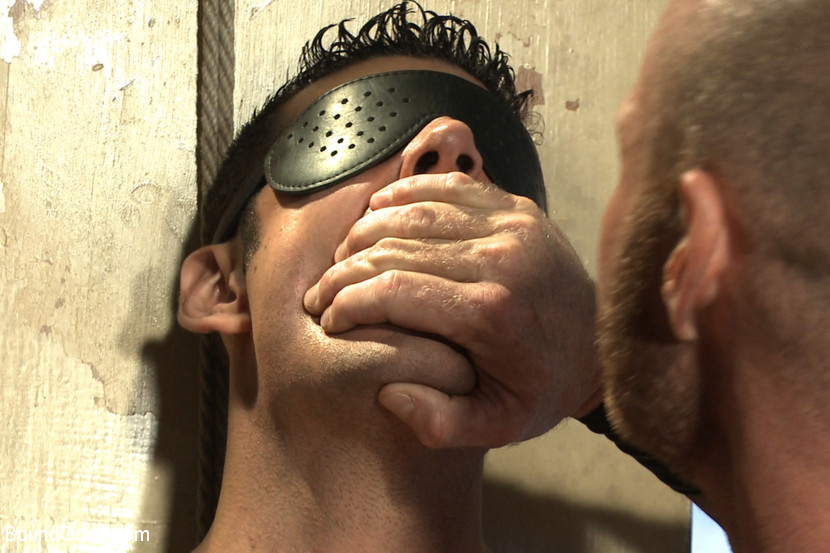 Blindfolds and BDSM: what you can't see is sexy




6. Humiliation
Have you ever been with a guy that gets off on making you beg for his cock or cum? Or someone that will demand that you get on your hands and knees before he'll even let you get a sniff of dick? This kind of humiliation play seems to happen quite a lot in my, ahem, plentiful experience. There are plenty of dom types that love to hold power over their subs through humiliation play, and so, naturally, there are loads of submissive guys that get off on that too. 
 
Indeed, humiliation is one of the main themes involved in gay S&M and BDSM. Aside from so-called verbal play or being forced to do things, there are other ways to incorporate humiliation into your sex. As well as being slapped, plenty of us have a fetish for spit and being spat on in the face or mouth. Some other guys prefer a warmer kind of liquid, and get turned on by gay watersports and pissplay.

One of the best things about humiliation and gay S&M play? You often don't need any form or equipment to get started, so it's perfect for bondage beginners. 
The bottom line: gay bondage and BDSM
Like the hetero community, lots of us queer peeps enjoy a little slap, tickle and verbal play during fucking. What you may not have realized is that what you're getting off on could actually already be considered part of the gay BDSM and bondage scene. If you consider yourself a beginner, then the above suggestions should give you some idea on how to start exploring taking things further.

Enjoying gay BDSM and bondage is nothing to be frightened or ashamed of and can become part of a healthy and happy sex life – some couples even incorporate such power plays into their day-to-day relationships, enjoying a so-called 'BDSM lifestyle'. Whatever kink you get involved in, just ensure that it is consensual and fun. •

All this gay bondage banter got you going? Explore your limits further with other gays members in our gay BDSM forum! 
5