Call us anal, but we're fussy when it comes to giving – and receiving – a decent gay rimming. Eating ass is intimate, erotic, and a great warm-up for fucking. So, from incorporating stubble to blowing his hole,
Alex Hopkins
 shares seven top tips on how to eat ass like a pro...
Remember the episode of Sex And the City when Miranda Hobbes was introduced to eating ass (or analingus to use the fancy Latin term)? And then discussed the magnificent munching over brunch with her girlfriends? As one does. This was revolutionary for straight viewers and went some way in shattering taboos around ass eating.

But for us gays, La Hobbes' latest sexual shenanigans was hardly news. After all, we've been tongue-twisting around the truffle tunnel for centuries. Indeed, we invented it.
 
Eating ass: why we relish a rimjob
There's no getting away from it. The finest meat needs a good pricking, prodding, and basting before it's devoured. The trick is always in preparation. That oven should be set at just the right temperature. And left to heat up before slamming in the lamb. And this isn't dissimilar to gay rimming. What better way to get the juices flowing prior to a perfect porking?

Delectable derrierès come in all shapes and sizes. They're loose. They're tight (if you're lucky). They're hairy. And they're smooth. But they all require a decent working over before fucking. For the receiver, ass eating is both pleasurable and practical. It's tactile and sensual. And hugely erotic. Why? Because it stimulates the nerve endings of both the outer and inner sanctums.

But for both partners, eating ass is unashamedly visceral and intense. A rimjob is a surefire way to nurture intimacy before the main event. So, now let's look at how to make one of your greatest assets ripe for rimming.
 
Gay rimming: 7 top tips
Before you let your hunk tongue his way into your trunk, here are seven ass eating tips you should check out together. Because as awesome as it is, gay rimming can also throw up some poopy problems. And, for the ass eater, it's not just about shoving your tongue into his crack and wiggling it about either – learn how to do a rimjob with proper skill...
1. Start your rimjob with a clean chute
Cleanliness is next to godliness. Sure, some guys yearn for a sweaty starfish. But no one wants to encounter a mouthful of dingleberries. Unless of course, you're into scat. So, let's talk about the elephant in the boudoir. The taboos around gay rimming revolve around poop (and the ideas of shame connected with this).

But all of this nonsense is easily avoided by prioritizing personal hygiene. So, this means a damn good showering and soaping are non-negotiable before getting down to a spot of ass eating.



Gay rimming: your tongue is your friend shutterstock/Asier Romero




2. Douche for a deep rimjob 
Gearing up for marathon ass eating antics? Ready to dive deep? And we mean really deep. OK. You need to get anal douching. But don't just treat it as an essential and onerous task. Instead, take your time. Enjoy it as you would analingus itself. As an act of self-love. A way of reacquainting yourself with your winking wonder. And laying the most exquisite table for your man.

Multiple douching devices are available to ready you for a rimming sesh. Choose from a squeezable bulb or a more elaborate enema kit. But the rules are much the same. Hold the liquid in for up to 10 or 15 seconds before letting it gush down the toilet.
 
3. Use rampant rimjob techniques
Eating ass is an art. It takes practice. Imagination. Ingenuity. And, above all, a generous sprinkling of surprise. 

Think about every conceivable way you can deploy that tongue. Why not cast yourself as an arse architect? Imagine gay rimming is about drawing the most intricate of plans on your other half's hole. This means licks from all angles. And with varied rhythm, force and speed.
"For both partners, eating ass is unashamedly visceral and intense. And a surefire way to nurture intimacy before the main event."

Toss in plenty of kissing. And a tad of tantalising with your teeth. But no biting. Never. Extraordinary ass eating is about balance. Tenderness and toughness. Your goal is to defy his expectations; to get him gurning with glee. But not to devour his most sensitive regions, no matter how sweet his meat may be.
4. Stubble can be sexy and sensual
Some guys will adore the sensation of your bristly bits brushing against their balls and their hole. Others will detest it. Find out whether he's into it. Simply ask him or try it out and check his reaction. But don't overdo it. Your mission with analingus is to tickle and tease him with different textures. Not to irritate his most sensitive skin.
5. Use your breath
Your breath can come slow and fast. And the sensation of hot breath against his butthole can be a sublime aspect of ass eating. Pull back, pause, then dive forward. And then stop again before your luscious lips hit his pucker. And then exhale.

Then mix things up. Use short, sharp breaths and longer ones. And savour the sound as the breath leaves your body. Direct your breath at all points on his undercarriage. And alternate with lashings of licking, kissing, and even nibbling (but go easy on the latter).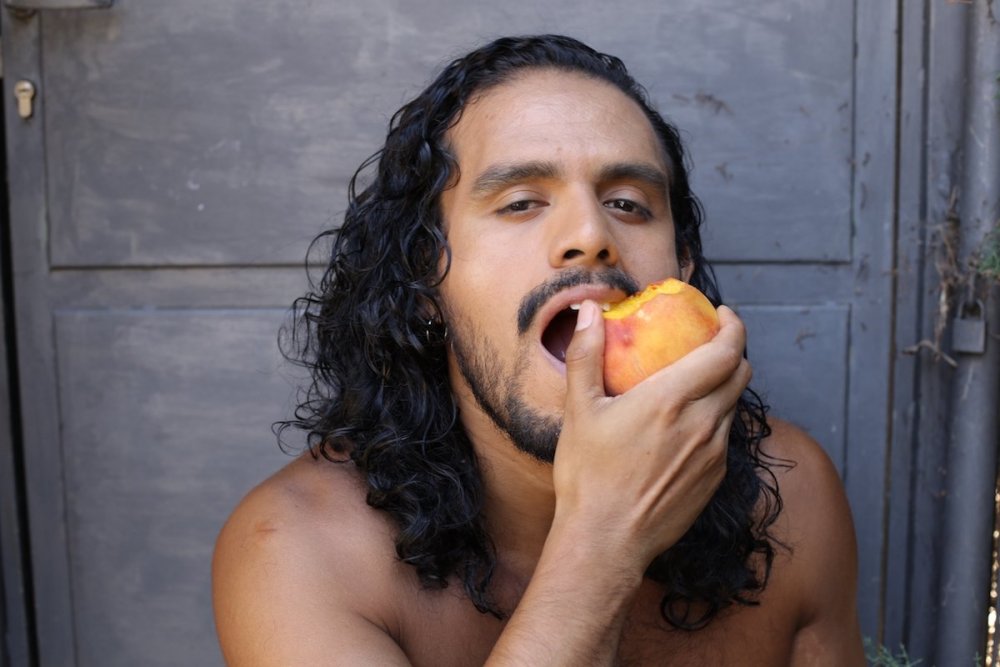 Feeling fruity? Eating ass is juicy stuff



6. Shave that hole
Some guys hunger for a hairy hole. Others hate them. But remember that eating ass is about giving and receiving pleasure – you're not down there to have your teeth flossed by excessive foliage.
 

Shaving aids cleanliness during rimming and helps dispense with hidden nasties. But better yet, banishing the bush gives you a clear view of the delights that await. It shows you exactly what you've got to play with. 
7. Don't forget the rest
His hole is not solely your goal. There's a lot more to eating ass than just his rear alley. And it all demands the most thorough exploration. Butt cheeks. Inner and outer thighs. And that special sweet spot between his anus and low hangers. Your role is to hunt for treasure in every curve and crevice around the anal area. 
 
Rimjobs: the risks
For the receiver, ass eating is considered safe. However, there are some risks for the giver. When you're having a good munch down below, you're potentially exposing yourself to bacteria. And you could contract infections such as gonorrhea, syphilis, herpes and Hepatitis A.

Then there's a particularly unpleasant bacterium called Shigella. According to the Centers for Disease Control and Prevention, this causes close to 450,000 infections in the U.S. each year.
 
"Gay rimming is about drawing the most intricate of plans on your other half's hole. This means licks from all angles. And with varied rhythm, force and speed."

You can catch it by accidentally ingesting the brown stuff during gay rimming. It causes a gut infection and symptoms mirror those of food poisoning.

Of course, cleanliness can reduce the risks of a rimjob. But the only real way to keep safe is through regular STI screenings. Take responsibility for your sexual health by getting tested at least every three months. 
 
Eating ass: the tastiest of takeaways
As with all sex, giving or receiving a boisterous back massage is about communication. And experimentation. So, forget those tedious gay rimming taboos and embrace sexual showmanship. With the right techniques, eating ass is the ultimate backdoor buffet. It can be enjoyed as an act by itself. Or to get your passage primed for a pounding to come. How do you make analingus adventurous and artful? Share your secrets by commenting below. •
Main photo: shutterstock/AJR_photo

Are you an expert in eating ass? Share your gay rimming techniques with the community below...
 
2