Being part of a gay threeway sex sesh can be super horny and liberating. However, trios can also be tricky to navigate. Fret not. Follow these six tips on how to make the most of a gay threesome: max out the fun, laugh off those awkward moments – and, above all – enjoy it.
Whoever came up with the saying 'two's company, three's a crowd', has clearly never been on the receiving end of gay double penetration! Joking aside, while gay threesomes that involve an existing couple bringing in a third certainly can raise issues around jealousy and trust, clearly there are also plenty of dirty, delicious benefits on offer. 

In fact, opening up (perhaps quite literally) a romance for a gay threeway can add a whole new dynamic to an existing sexual relationship, boosting excitement, empowerment, and providing a whole lot of fun and frolics. 

But just how common are gay threesomes anyway? Us queers are traditionally believed to be more open when it comes to sex and sexual partners, and a 2022 study by the website DatingAdvice seems to back that up. The study involved just over 1,000 participants in the USA and showed that 51% of people who identified as LGBTQ had previously had a threesome – that's three times more the hetero population at 16%.
 
Gay threesome guide: 6 top tips
Seeing as us queers seem to be chomping at the bit for threesomes compared to the rest of the population, we're the right people to educate each other on what makes them hot or not. So, whether you're a single guy looking to sign-up to a gay trio or you're part of a couple hoping to expand your horizons (and maybe your ass), here are six sexy and sorted tips...



1. Decide who you wanna get sticky with
When it comes to initiating your gay threeway, choose who you want to indulge with carefully. If you have a BF already, bear it in mind that throwing an extra cock or butt into a sexual relationship that currently makes necrophilia look hip and happening isn't necessarily going to revive your desire for each other! In fact, it could well do the opposite, only serving to remind you just what a block of ice your so-called "lover" is in the boudoir.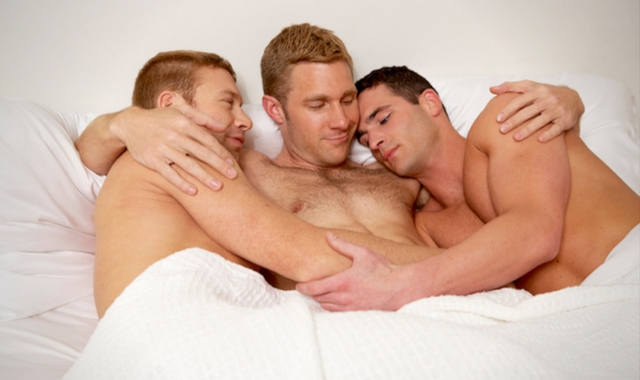 Gay threesomes: choose who you want to get dirty with carefully...
If you do choose to play together, select your third party carefully: he may have a donkey dick, but is he, in fact, a psycho? Or perhaps even worse, are they a sexual dynamo who is only going to show you up and make you feel – and even worse, look – small and insignificant? Sometimes spontaneous threesomes can be the best – but make sure you're both on the same page before getting your kecks off.
 
2. Fellatio and flip-flop: what are you up for? 
OK, so you've decided to play as a couple – now you need to work out what exactly you're up for. What you may hammer away like together isn't necessarily what you may choose to do to a stranger. What would a third wheel bring in to the equation? Are you both fed up of your normal top or bottom roles and wanting to bring in a hot daddy or twink to shake that shit up? 
 
"While gay threesomes that involve an existing couple bringing in a third can raise issues around jealousy and trust, clearly there are also plenty of dirty, delicious benefits."
Or, maybe you're really into eating ass and fancy slipping your wet tongue into somebody new, instead of facesitting your regular fella again? Maybe you want to try a new sexual position that you've never bashed out before? Whatever the deal, boundaries should be established if you're in a relationship. If you're off gallivanting alone, however – well, just try and keep it legal!
 
3. Discuss boundaries
While talking about what you want to do is important, talking about where you won't go is even more so. Talk candidly together about the sex you want to explore as a threesome and be sure to set boundaries on intimacy and kissing, condom-use or bareback sex, etc. A single person joining a threeway may have some reservations about being pressured into things, so a couple can help relieve fears by taking the lead when it comes to talking about needs, desires and boundaries. 


Get your hands off of my man! Beware gay trio grudges
4. Stay aware
Gay sex is relatively straightforward when there are two people involved, but throw a third into the mix and things may not get to plan. Yep, there's loads of potential logistical and timing issues when it comes to a gay threesome sex sesh, and things may get tricky or awks. Who's going to get fucked first and by whom? Are we using condoms and who is going to put it on? Do we finish when everyone's shot their load at least once?

Try not to obsess over these things as there will be plenty of times when things don't flow or when things go wrong. Above all, communicate. However, you don't want your horny fuck-fest to feature a running commentary – unless, of course, dirty talk is part of your gay threesome scenario – but self-expression is important. If you're not enjoying something, let your partner/s know. 
5. Watch out for gay threeway grudges
We're talking jealousy, of course. The green-eyed monster as apposed to the large, one-eyed monster that's more likely to be on your mind! More good queens have been lost to jealousy than disease, starvation and war combined. Put simply, if you live with someone who could have starred in Fatal Attraction, then don't invite in some other poor, unsuspecting hottie into the mix!
"Talk candidly together about the sex you want to explore as a threesome and be sure to set boundaries on intimacy, kissing and condom-use."

Indeed, better avoid anyone who may develop feelings for your other half, because the sight of your dearly-beloved getting his backdoor banged in may be fun at first, but if it happens on a regular basis, tensions may develop.

Indeed, gay threesomes that involve an existing couples bringing a third into the mix may start to get repetitive, as natural physical attractions and roles develop within the trio. Just keep an eye on things and talk honestly and openly with your partner/s about how you're feeling – post-coital handbag fights are best avoided. However, if you find that you're all getting on like a house on fire – the sex is amazing and you enjoy each other's company – you may even consider the idea of a gay throuple. 
 
6. Be considerate
The clue is in the name: there are "three" of you. Is someone laying there like a disposed tampon? Do they need an extra portion of the finger(ing) buffet? Are they sitting there all on their lonesome, flicking that little bean while Mr Insatiable blisters your Bratwurst? Share and share alike, ladies. Unless you're shooting a porn threesome for Falcon Studios – in which case you really shouldn't need our gay threesome guide – one of you is likely to be the less attractive of the merry trio.

MORE LIKE THIS:
Try not to ignore him for too long. Oh, and the sharing bit means that everyone does the mopping up afterwards – and if there's nothing to mop up, well, you know this threeway thang has been an unmitigated disaster, right?

Takeaway: gay trios
Gay threesomes can be hot and horny and should be enjoyed – that doesn't mean things won't go wrong (because they will!), but resist the urge to get uptight about it. Laughing during sex is normal, after all. And while it may be obvious what went well and what didn't by how soaked your sheets are, consider a fun, threeway debrief with your partner/s.

Chat about how you felt emotionally, physically and mentally, both directly afterwards and days down the line. This can help gay couples and singles alike decide if threesomes are something they want to pursue more often. But above all, enjoy yourselves!  • 
Main image: shutterstock/VladOrlov
 
What are your experiences of gay threesomes? Have a tip to share on how to go a threeway fuck-fest right? Comment in the forum or below!



Images: model released from Shutterstock
1