If you didn't already know which sexual role your prefer, our Gay Personality Test will reveal how much of a top or bottom you are... plus a whole lot more! Take our quiz, have some fun, and share your answers with your friends!
Have you ever wondered how your sexual role is related to your wider relationships in this wild, weird world? Take our top or bottom quiz and find out.
Top or bottom: where do you fit in?
According to a recent gay.de survey, 43% of guys prefer to bottom. And only 6% identify solely as tops. However, when it came defining themselves as top or bottom, the largest proportion (33%) of participants actually claimed to be versatile. Fascinating though it is to ponder what others get up to in the sack, your sexual identity is unique. But have you fully explored it?

Tops, bottoms and versatile guys can share personality traits common to each group. Try our top or bottom quiz for a fun and cheeky way to to find out where you fit in! Are you 100% top, 100% bottom or somewhere in between?
Diving into definitions
The first stage in answering the all-important question 'am I top or bottom?' is to understand the definitions. 
What is a top?
A top is the active partner in gay sex. He's the one who inserts his cock into the passive partner (the bottom). Either anally or orally. Additionally, there are related terms.

Firstly, there's the total top. As this term suggests, the idea of bottoming is a complete no-go to these men. Secondly, there's the power top. These much sought-after spunky specimens are celebrated for their aggressiveness in ramming it home – their priority is to proudly provide you with the pounding of your life!
What is a bottom?
A bottom is the passive partner in anal or oral sex. They are ready and willing to be penetrated by the top. And again, there are the related terms. Firstly, there's the total bottom. Don't ever expect him to be active in the old pump and grind. 
Secondly, there's the power bottom. And like the power top, they bring a certain combativeness to sex. Forget any misguided notions about power bottoms just lying back and taking it. These sometimes called 'Bossy Bottoms' aren't shy in giving instructions. 
So, am I top or bottom? Or somewhere in between?
Sexuality is a spectrum. And you shouldn't beat yourself up by asking am I top or bottom. Happily, you can be somewhere in the middle. All of the time. Or just some of the time. This is called being versatile. And it means you can get the best of both ends!

 


A versatile top is open to switching roles. He'll bottom for the right guy, depending on the circumstances and his mood. Consider yourself special if he chooses to do it with you. Conversely, a versatile bottom's preference is to bottom. But he may also occasionally mix things up by topping. 
Four reasons to take our top or bottom quiz
You must be gagging to take out quiz by now! Here are four reasons to check if you are top or bottom with our Gay Personality Test!
1. You're unsure of your sexual role
Satisfying sex begins with taking a good look at ourselves. How else can we decide what we truly want – and need?  Our personality quiz will answer the question 'am I top or bottom'. But it can also illuminate parts of your personality that you may not be completely conscious of. And this can help you not only sexually, but also in the wider world.
2. You want to find the right sexual match
We all want more sex. But with the right guys. A top or bottom quiz can help. Use the revelations about your character to discover the attributes you should look for in others to create sexual fireworks. 
3. You're looking for lighthearted fun with friends
Sharing the results of your top and bottom or test with friends means fun and laughter. Indeed, it brings an altogether more frisky and fascinating dimension to tedious after-dinner conversation. Sex, after all, is about being playful.
4. You want to explore your kinkier side
Do you dream of embracing fetishes? But are unsure where to start? Our top and bottom test can help you narrow in on the individual personality traits that lend themselves to different kinks. This makes it the first step to fetish freedom and probing those delicious, darker desires.
What our top or bottom quiz looks like
Our top or bottom test asks you to imagine a scenario we've all been in. What happens when you meet a gorgeous guy for a second time? Our 10 simple multiple-choice questions encourage you to explore this scene from fresh perspectives. The questions focus on what you'd do in different situations when alone with your man. Will you go down on him immediately? Or chill first? 
"Try our top or bottom quiz for a fun and cheeky way to to find out where you fit in! Are you 100% top, 100% bottom or somewhere in between?"

At the end of the top or bottom test, you'll receive the results of your 'gay personality.' Do you prefer one-off hook-ups to long-term relationships? Are you more kinky than vanilla? Dom or sub? And, crucially, what percentage of your gay personality is active or passive sexually? This top or bottom quiz takes only five minutes to complete. But the results could set you on a new kink journey of a lifetime. Why wait? Start today by taking our top or bottom quiz for free. And share your scores in the comments below!:)
Can you judge a top or bottom based on how they look?
Appearances are deceptive. And you can't accurately judge who's active or passive based on how they look or dress. Such judgments are rooted in stereotypes, and often involve bottom shaming.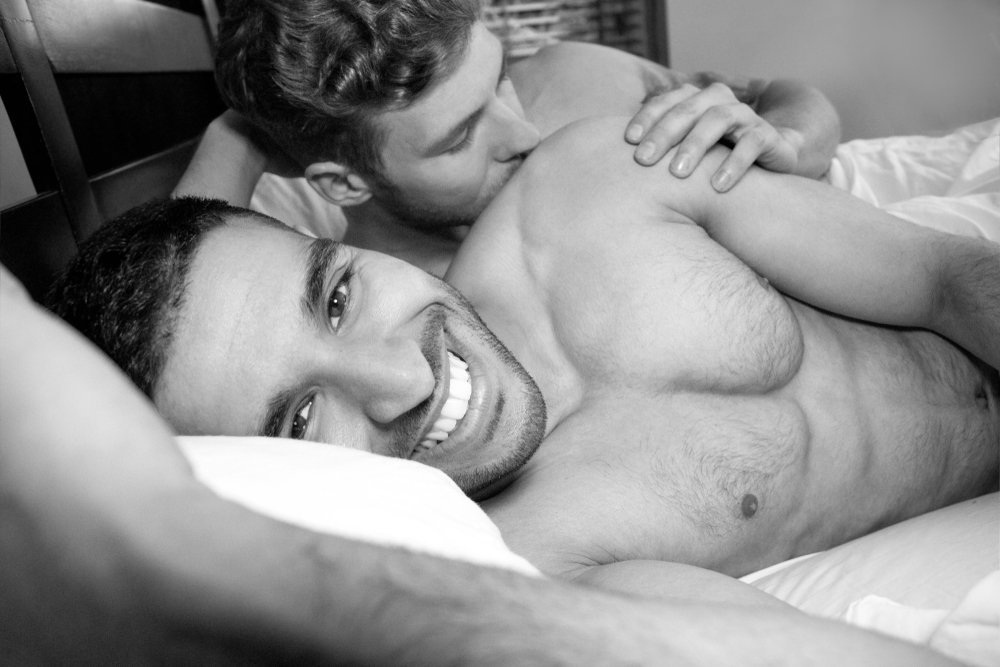 Are you more active or passive? shutterstock/Tony Marturano
Because they're passive sexually, bottoms may be unjustly considered 'feminine' and 'weak'. Picture a Kylie Minogue-loving guy with dyed blonde hair in a lurid pink t-shirt. You may assume he's a bottom. Until he flips you over and whips out his dick of doom.

Similarly, gay mythology says that a top is big 'n' butch, perhaps with a shaved head. Picture a muscle-bound hunk of man meat dressed head to toe in leather. But you could be in for a significant surprise when his legs spring up with a fluency of their own.
Sex roles versus social roles
Crucially, the roles we take in the bedroom don't necessarily correspond with how we behave in other places and scenarios. Why? Because sex is another type of performance. And we wonderfully complex humans adapt our behaviour depending on where we are and who we're with. And what we've learned over time.
So, a guy may enjoy bottoming and relinquishing control in bed. But this doesn't necessarily mean he has a naturally submissive personality. For example, at work, he may be fearsome. Likewise, a top may be dominant sexually. But elsewhere, he may prefer others to take the lead. When asking am I top or bottom, a quiz is a great way of examining these different and sometimes daunting dynamics! Have fun and let us know what you discovered below... •
Main image: shutterstock/Lopolo
1