Gay men have always had a complex relationship with porn. But is our idolisation of its performers misplaced, asks Alex Hopkins.

Porn is often a gay man's first encounter with gay sex. I still recall sneaking off to the Virgin Megastore as a teen and coming home with my prize: what was then an 18-rated Bel Ami VHS tape. In an age in which bareback sex porn is frequently the norm, the sight of Johan Paulik frantically gurning – but minus any shots of his vast member, let alone the hallowed 'money shots' – was tame by today's standards, but nevertheless did the trick for me.

It seems bizarre to think that Johan Paulik is now 41-years-old. Somehow he will be forever frozen in time, his perfect, angelic face with its piercing sea-green eyes, framed by that thick mop of dark hair. Paulik will, for me, always be a gay porn 'star' in the true sense of the word: he made dozens of films for Bel Ami, was inducted into the GayVN Hall of Fame and in 2002 even became general manager of Bel Ami in Europe.

Paulik's career, from ingenue to grande porn business dame in control of thousands of men's masturbatory fantasies, certainly has its appeal. There's an enduring fascination with gay porn performers. For many years now, the GAY brand in London has held an annual 'Porn Idol' competition in which young gay men are invited to flaunt their wares on the stage of Heaven nightclub. Work with porn studios can follow and twinks grab at it with the ferocity that generations of gay men have longed to take a plunge at Jeff Stryker's legendary 11-incher.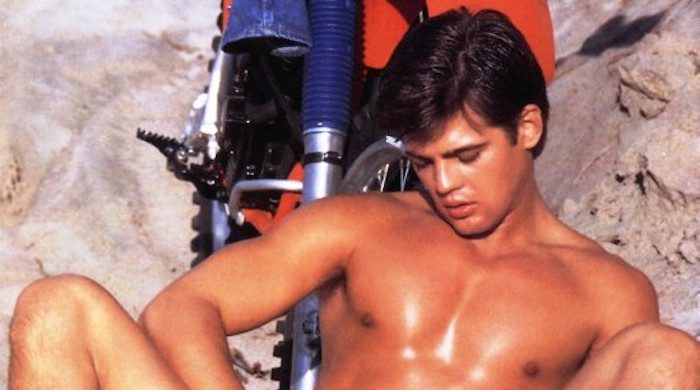 Jeff Stryker

But how far is the reality of being a porn star removed from the fantasy? In recent years there have been a number of highly-publicized deaths of top performers. In particular, the suicide of Arpad Miklos – outwardly a giant of a man – suggests a much darker side to the business. Given this, do gay men idolize these figures at their peril? There has been much debate about this, and it is, of course, too easy to demonize an entire industry and all of those in it based upon a handful of casualties. But when do a number of deaths start to become a trend?

Yet there is no denying that the life of an established porn "star" is not easy: you age publicly, you can be discarded, if you have low self-esteem (as many gay men do), these pressures can have a major effect on you, and some deal with it better than others. Do the studios offer adequate support to their performers? And what responsibility do those who consume porn have? One only has to look at disparaging and often vitriolic comments under threads of porn star deaths to see how quickly people are to judge. Is what's really wrong here not the fact that someone chooses to do porn for a living, but the ways in which society views sex per se?

Why are so many of us attracted to this world and the men who inhabit it? What power do they have over us? In his superb, blisteringly honest exploration of his relationship to porn, 'If You Look At It Long Enough' the (non-pornographic) filmmaker and writer Paul Hallam says that "to watch pornography is perhaps to disrupt time, to play with memory and to look forward to scenarios unlikely to happen." Yet, conversely, it also reminds him of past relationships, giving him the opportunity to reassess them, even rewrite them: "I'm astonished how, even in mass-produced porn I find a trace of someone met, a one-night stand, a childhood sexual experience, a longer-term lover…and, always, it reminds me of age and death." The function of the porn 'idol', then, is perhaps to facilitate an escape from our lives, but an escape which paradoxically brings us back to the what we can never truly avoid: our own mortality.

But the word 'idol' when used in the context of porn is problematic for others. As a lecturer in film studies at the University of Warwick, Jose Arroyo spends his days assessing star quality. "Things have changed in porn," he says. "There certainly used to be very big stars, the Jeff Strykers. The sign was always whether their penis was on sale as a dildo. But the whole business has been changed by the internet, destroyed really, and the star system has necessarily changed (the money's all from hustling now rather than the films). There used to be quite a lot of porn star bios (which was another sign of stardom) but Michael Lucas is the only recent one to get this treatment."

The case of Michael Lucas is an interesting one, raising timely issues about the proliferation of bareback porn. Lucas, previously a proponent of condom use on gay porn, changed his stance in 2013 and chose to direct bareback scenes. At a time when HIV rates are rising among gay men, how responsible is it to depict condom-less sex - and should those who make a career out of it be celebrated, held up as examples?

It is, of course, up to every individual to weigh up the pros and cons of deciding whether or not to have 'raw sex', but the important thing is that they are in full possession of the facts. If these are still not adequately taught in schools, and gay men are inundated with images of risky sexual acts, such as 'creampies' and 'breeding', it can be argued that they are being coerced into particular types of behaviour. Videos showing guys slamming Crystal Meth are easy to find – the more extreme the practice, the more it seems to sell. Just the other day I was told of the death of the ex-boyfriend of an acquaintance of mine who participated in one of the first 'slamming videos'. He had committed suicide. How far removed all of this is from my early experiences 'watching' the fresh-faced Johan Paulik.