Gay men and lesbians have a long history of adoring strong but also fragile women. How have our idols changed over the years, and what do they continue to offer us, asks Alex Hopkins.

Something of a minor scandal is currently unfolding in London's West End. Hollywood legend, Glenn Close, starring in the musical Sunset Boulevard at the English National Opera House, has – at the time of writing - now missed four performances as the lead role of the reclusive, silent screen goddess Norma Desmond. For two weeks audiences – mostly made up of gay men – have been flocking to 'the theatrical event of 2016' to see Miss Close don an increasingly extravagant array of gowns as she sweeps up and down a grand staircase before finally blowing her toyboy lover's head off and descending into madness.

Gays have a long history of diva worship, and the character of Norma Desmond (made famous by Billy Wilder's 1950 film) comes from an impressive lineup of much adored Sacred Monsters. She's right up there with Bette Davis, Joan Crawford and Marlene Dietrich – larger than life women whose capacity for camp, glamour, gender-bending and frequently challenging behavior in a male dominated world, spoke to gay men. These were women who were adept at wearing masks – both on and off the screen – to get what they wanted; outsiders whose grit and determination resonated with legions of gay people. At a time of vicious homophobia these stars offered the LGBT community a much-needed form of kinship; furthermore, a photograph of a booze-addled Joan Crawford in someone's home was often a telltale sign of that person's sexual identity.

Gay idols from yesteryear share similar traits. As well as being outwardly tough, they are also often very vulnerable. Glenn Close, in an interview about Norma Desmond, summed this up perfectly: "She's a fragile creature, and what makes her sympathetic in my mind is the courage, effort, and heart it takes to overcome that fragility." She could have been speaking for a whole generation of gay men and women who regularly battled the heterosexual norms of society. The momentous star comeback – as represented by the talented, tortured Judy Garland – wasn't just about the triumph of will over adversity for a performer people had not even met, but about the internal struggles of her faithful admirers.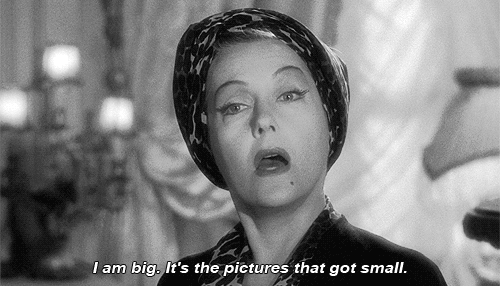 Gloria Swanson as Norma Desmond in Sunset Boulevard (1950)

But are these divas now out of date? And if so, who has replaced them? A few years ago a gentleman caller (to paraphrase another gay idol, Blanche DuBois in Tennessee Williams' A Streetcar Named Desire) visited my chicken coup of a flat and couldn't name any of the classic stars framed on my walls. Call me a stereotypical gay of a certain age, but I was appalled – so much so that the ensuing scenario was somewhat tarnished. But then why should he have recognized them? Increasingly not just LGBT culture but also mainstream culture has been reduced an endless array of manufactured pop 'stars' and reality TV wannabes - and all because they bring in the numbers.

Times change, and we inevitably turn to different people for inspiration. We're now living in the era of gay marriage where many LGBT rights have been won. The fight is less apparent, but there is still much work to be done. Stars who use their platform to advance this are to be welcomed - they're facilitating debate and helping to change attitudes. Recently, Rihanna was revealed as having privately supported a man in coming out. Such an act may seem small, but in this high-tech age, it reaches millions. Rihanna – clearly someone with a political and social conscious – was saying it's ok to be an outsider; the same message as the onscreen images of Greta Garbo in man drag once communicated. There are, thankfully, more important conversations to be had than what color Miley Cyrus is going to paint her vagina as she twerks her way to social media saturation point.

Gay men, in particular, can be very precious about their divas. Some years ago I encountered a barrage of abuse when I dared to refer to Madonna – whose support of the LGBT community has been patchy over her long career – as "a crotch-grabbing divorced mother of four." Absolute sacrilege, apparently. Most recently, in the ongoing debacle concerning Glenn Close's absence from Sunset Boulevard – which gay men as far as America and Europe have bought tickets to see – there have been furious online exchanges about who the best stage Norma Desmond has been. Talk about handbags at dawn. 

The Close fallout has not only been hilarious to watch, but it reminds us that the gay cultural heritage of diva worship is as relevant as ever. We may not encounter the levels of hatred we braved in the past, but the inner demons are still there: the bullying, the conflicted upbringing in a straight world, the buried sense of shame that can lead to the disturbing chem sex epidemic we're seeing in major cities now. Witnessing a deeply flawed, but understandable character like Norma Desmond grapple with madness – and the infidelity of a lover – on a nightly basis clearly resonates very strongly with gay men and women. And as over 2000 people rise again tonight to give one of the most heartfelt, cathartic standing ovations seen in the West End in years, the sense of mutual trust and support which a community – however fragmented – should be based upon is reinforced. Our chosen divas, you see, have that most magical of powers: they make us feel, even for just a few hours, that we're a little less alone.