What is it about musicals that gay men so love? The Show Queen, or Musical Theatre Queen is as much a part of gay culture as camp, cottaging and classic Hollywood cinema. Alex Hopkins at Gays.com  takes a deeper look at "The Show Queen".

Given the frenzied excitement which accompanied the return of Glenn Close as Norma Desmond in the Broadway revival of Sunset Boulevard this year, it seems that the Show Queen, at least, is still alive and well - and camping it up unashamedly on The Great White Way. But what exactly is it about musicals which still attracts scores of gay men? 

"For me, it's about a character being so full of emotion at a certain point in a story that all they can do is sing," says British playwright Jonathan Harvey. "When I was growing up my straight brother hated that bit, and I loved it." 

Jonathan is known for the international hit play and film Beautiful Thing and TV show Gimme Gimme Gimme, but he is no stranger to musical theatre: he wrote the book for the 2001 Pet Shop Boys musical, Closer to Heaven.  More recently, he has penned the only authorised musical about one of the biggest gay icons of all time, Dusty Springfield, which will premiere in the UK in 2018. 

As a writer, Jonathan feels the biggest challenge is to "make it seem normal that people burst out singing" – but it's these "magical moments" which he believes appeal especially to gay men. And then, of course, there is the drama – often played out through the luminous figure of the diva, so cherished by gay men.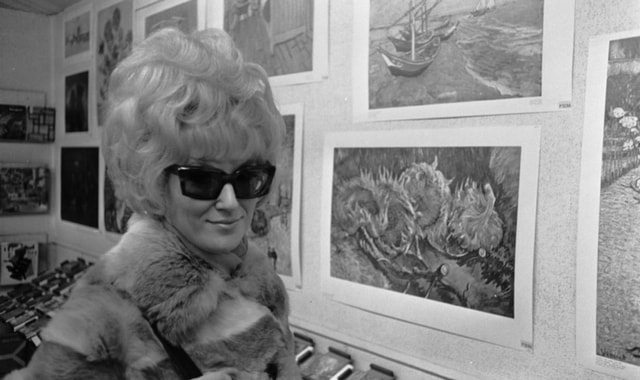 Dusty Springfield. Vuonna 1968.  Image: Wikipedia

"Dusty was a star who had everything, lost it all with drink and drugs, then made a huge comeback, and just as she got it all back again was diagnosed with breast cancer and passed away," explains Jonathan, pointing to the tumultuous rise and fall that gay men, in particular, seem to understand and take to their hearts. "It's also to do with the camp enjoyment of wanting the leading lady to be uber demanding," laughs Jonathan, though he says that in his experience few are. 

It's a sentiment that Ian Stewart – a lifelong musical theatre fan, known to his friends as Velma after the lead character in Chicago – understands only too well. "The diva is the undoubted star," he says, "Glamorous, professional and generous to their fellow performers and fans – and, yes, some others can be completely deluded bitches – and we love them for that!"

Escapism and the feeling of being an outsider also seem to play a leading role in the appeal of musicals to gay men. "The glitzy world of musicals draws them in," Ian says. "It often allows them to create a character for ourselves who is a Show Queen – while others imitate their show or movie idols." 

Ian still treasures those special nights at the theatre, times which have allowed him, temporarily at least, to forget about the realities of what has often been a terrible and unfair world for him.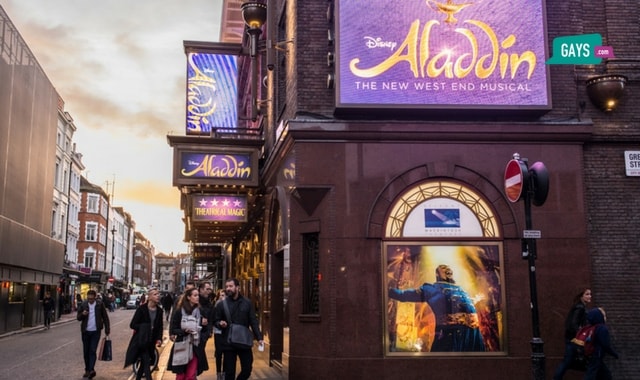 Prince Edward Theatre in Old Compton Street, Soho, London UK. Now playing Aladdin.  Photo: Shutterstock

Jason Burridge is 26 years younger than Ian, but like him is a devoted musical theatre fan; indeed, his knowledge of shows is somewhat encyclopaedic, particularly the musicals of Andrew Lloyd Webber.  His all-time favourite 'Diva' is Elaine Paige, a performer who, he believes "when at her best, epitomises the sheer power and impact of acting through song".

A true show queen to Jason is a gay man who can "talk at quite a sophisticated level of discourse in terms of analysing and dissecting the art form". Jason recognises such a creature immediately these days – for the last 15 years, he has inhabited online forums and discussion groups full of gay men obsessed with musical theatre. "You see gay men drawing endless comparisons and pitting of one woman against another on these sites," he says. "It can be tiresome. Gays will always fight for their favourites to the death, and not many who are really into their music or theatre are willing to see things with balance or recognise the merits of all these women." 

Jason's observations tap into another, sometimes amusing, often vicious trait amongst some gay men: their love of a good feud – and "the ultimate feud is a diva feud, isn't it?" Jason remarks with a wink. 



Magnificent Musicals
Hello, Dolly!
Gay icon extraordinaire returns to the Broadway stage as matchmaker extraordinaire Dolly Levi. Expect fabulosa gowns and La Midler's unique charm and campery.
 
Hamilton
Mega hit Broadway musical about the life of American founding father, Alexander Hamilton. Sung through hip hop and rap – if that's your bag. Coming to London soon.
 
War Paint
One for Diva loving Show Queens. Patti LuPone and Christine Ebersole play rival makeup pioneers Elizabeth Arden and Helena Rubenstein on Broadway. Patti LuPone was infamously 'let go' from the 1994 Broadway production of Sunset Boulevard – before she even got to the stage when the role was given to Glenn Close. Divas, like scorned gay men, have long memories.