Families: can't live with them, can't live without them – at least certainly not in the world of Xavier Dolan. Gays.com's Alex Hopkins reviews Dolan's latest film; It's Only the End of the World.

French-Canadian enfant terrible Xavier Dolan, at the age of just 28, has already become a master of family dysfunction. It takes a certain audacity, after all, to call your debut feature I Killed My Mother – and then to add that it was semi-autobiographical. His latest film, It's Only the End of the World, screened at this years' BFI Flare London LGBT Film Festival, continues his favourite theme of simmering familial hatred and resentment, in what may be his most intense movies yet.

Dolan's latest project is based on the play of the same name by Jean-Luc Lagarce. The story is intimate and deceptively simple: a young playwright, Louis – played by a suitably tortured Gaspard Ulliel - returns home – after a long absence – to tell his family that he is terminally ill.  The scene is set for endless bickering as long-held tensions resurface, and Louis attempts to muster the courage to break this bombshell.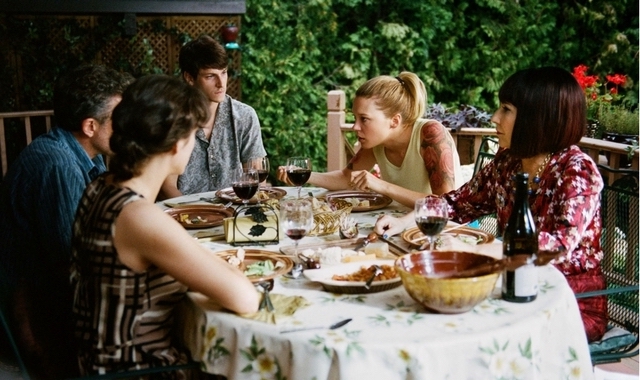 Image from Xavier Dolan's 'It's Only the End of the World' courtesy of BFI Flare

This is an actors' film – and Dolan has assembled a formidable cast, headed by Nathalie Baye as Louis' babbling mother, Lea Seydoux as his sister, Vincent Cassel as his antagonistic brother Antoine and Marion Cotillard as Antoine's long-suffering wife. There are brief initial attempts at pleasantries as the group is reunited, but these soon break down as they tear one another to pieces, with a ferocity which is both deeply unsettling yet thrilling to watch.

The source of rage appears to be Louis' success. It's not difficult to see why he chose to flee his small-minded rural childhood, but it's evident that his family have never forgiven him for doing so – especially not his brother Antoine played with vile zeal by Cassel. The relationship between the siblings forms the core of the film, constantly threatening to spill over into violence as Dolan leads us – with increasingly dread – to the claustrophobic climax.

As in all of Dolan's films, homosexuality – Louis is gay – is not the central issue. Yes, Antoine mimics his brother's voice, and there are some homophobic jibes, yet this is merely part of the more general tide of hostility directed towards Louis – not the cause of it. 

Elsewhere, we're reminded of Dolan's acute sensitivity when it comes to the complexity of the mother-son bond. In a remarkably tender scene between Baye and Ulliel, the mother confronts her son about his futile attempts to keep in contact with the family over the years, culminating in a deep embrace between the pair.  In typically tight camera work, Dolan exults in drawing out, the camera panning in on Baye's hand as it lingers adoringly on her son's back. It's one of many highly stylised moments in a film during which little happens, but that all that is said – as is sadly the way with families – becomes the irreversible stuff of nightmares.