Gays.com writer Alex Hopkins reviews two films at this year's BFI Flare London LGBT Film Festival - 'The Trans Sex Workers of Istanbul' and 'Right of Passage' - which highlight the plight of LGBT refugees in Germany, and Transgender sex workers in Istanbul.
The most lethal place in Europe to be Trans
Back in 2015 LGBT life in Istanbul made the headlines when that year's Pride festival was shut down by riot police. The images – of brutal beatings by those in authority who are supposed to protect us – shocked the world. 

Andy Hayward's bold documentary The Trans Sex Workers of Istanbul is similarly upsetting, exploring the endemic transphobia which has seen Turkey leading the way in Europe for the number of Trans murders.

From its brutal opening scene – video footage of a Trans person being kicked by multiple assailants – Hayward's film spares us little.  We're introduced to a series of Trans sex workers who are forced to work the hostile streets to fund their transition. 

"I didn't want to do sex work. I had no choice" explains 22-year-old Zeynep, as she conceals a meat cleaver against her headboard in preparation for a client's visit. These Trans women are survivors – of beatings, stabbings and kidnappings – and have the scars to prove it.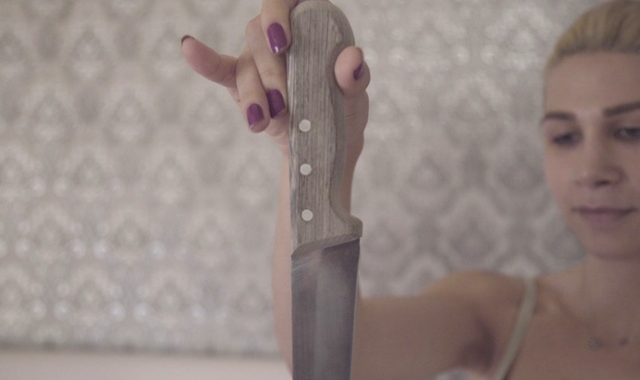 Image taken from the documentary 'The Trans Sex Workers of Istanbul'.  Courtesy of BFI Flare.
 
A country built on dicks
"Every week we lose one of our friends, and the government do nothing," says Sevval Kilic, a DJ, former sex worker and now prominent Trans activist. Kilic's testimony forms the backbone of Hayward's film. She's fierce, eloquent and witty as she puts the Trans murders into context: "We built a country on dicks," she spits. "We worship dicks. This country is a mecca of the patriarchal system." 

Most of the stories we hear are horrendous. Gullen, for example, was stabbed 22 times by clients: in the throat, in her lungs and elsewhere on her body – yet she still must walk the streets to eat. 

"No one comes here with an abundance of emotions," says Ela without a shred of self-pity. Transphobia, she explains, is – unlike in the UK and USA – not something to be ashamed of, no, it's almost a badge of honour. 

What future, then, is there for these Trans women?  Hayward's film may be grim, but it is not without hope. We watch on, inspired, as Turkey's LGBT community come together once more at Pride 2016, visible and rebellious, despite the barrage of violence.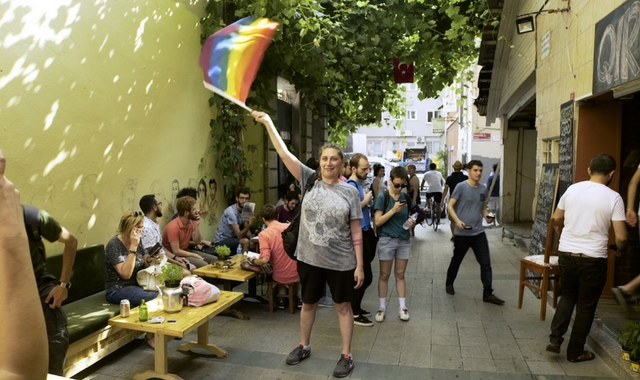 Image taken from the documentary 'The Trans Sex Workers of Istanbul'.  Courtesy of BFI Flare.
 
Escaping the horror
Germany has taken in more refugees than any other country in Europe – and a significant proportion of these have been LGBT people. Turkey has also been one of the states which LGBT people have stopped off in, on their way to a more tolerant European country. 

Emma Wheeler's Right of Passage is a timely and important film looking at the challenges these LGBT refugees face integrating into an alien society.

"No one would choose to leave his country," explains a young Lebanese refugee, who finally came to this difficult decision to leave his country after meeting a guy on Grindr in Lebanon, who attacked him and pushed him from a third-floor window. 

Such entrapment is common in the country, he explains. His subsequent experiences in a refugee camp, however, were little better: as he details the homophobia he faced from his fellow refugees – one of whom attempted to rape him – we're given a sharp insight into the cycle of intolerance and violence LGBT refugees will always struggle to escape.
"The police killed a lot of my friends."
As in Andy Hayward's film, the stories we hear in Right of Passage are frequently gruelling, depicting a viciousness which we, in the more liberal West, find difficult to comprehend. 

One refugee who escaped from Afghanistan – travelling first to Turkey, then to Greece and finally to Cologne – tells us flatly that the police killed a lot of his friends, "chopping them up and throwing the pieces on the road." He talks about how he was forced to dance and was habitually burnt with cigarettes in a culture where you can be sent to jail for six months just for wearing makeup. 

A beautiful moment follows, however, in which we see him dancing in his room, his movements free and serene and full of joy. His resilience – possessed by all the interviewees – has seen him triumph over hatred.

The strength of Wheeler's film is derived from its subtlety. She simply shows things as they are: as they have been and as they now are for these people. 

At a time when the right-wing press swamps us with negative stereotypes of refugees, this tender portrayal of humanity seeps into your pores throughout this brief, but compelling film. "Home is not a place, it's a feeling," concludes the Lebanese refugee, "And Cologne has made me feel loved and secure." That, surely, is what we all want – and deserve.