Drag queens are an integral part of gay culture – but how do they stand up against alternative drag, asks Alex Hopkins.

I was 17, my parents were away, I was acting in a summer theater course. What else do you do but hold a house party? And as the drink flowed out came the leopard print dressing gown, which my grandmother made for me (her tacit her acceptance of my sexuality). Before long I'd transformed myself into Norma Desmond and was singing along to Glenn Close on the cast recording of Sunset Boulevard, dementedly waving my arms around as if I were hanging out the washing.

Before I came out, I spent years sitting in front of the TV in the living room studying Shirley Bassey's every move. This early 'drag' performance came naturally to me. Like many gay men, I started to enjoy drag shows, fixated on the performer's every move and the way he would chew into a lyric, miming every last drop of emotion out of it.

But as time went on I realized I had a problem with some drag shows. Sure, they were entertaining, but some things made me feel uncomfortable, particularly the often repeated jokes aimed at women in an audience: "Oh, look at the fish over there," and similarly other predictable jibes about the female anatomy. I began to understand why some feminists found the notion of drag queens misogynistic. Here were gay men playing out their outsized fantasies of what women were: everything larger, more pronounced, glamor all.

In a recent debate about Glenn Close's recent London performance as Norma Desmond in Sunset Boulevard, I crossed swords with a gay male friend of mine. He objected to what he called Close's "aged" interpretation of the role. It seemed too subtle for him. A female friend pointed out that what she was presenting was an accurate portrayal of a woman of a certain age. "Many gay men want and expect women to be like drag queens," she said. "We're not like that."

As a counterpoint to this kind of representation of women, the increased popularity of alt drag gives us an entirely different – and arguably more profound – disruption of gender ideas. The vision of a bearded man, for example, in high heels and makeup is perhaps one of the boldest statements on the interplay of the masculine with the feminine. In London, alt-drag performers like Jonny Woo has helped bring alt drag into the mainstream and garnered a cult following.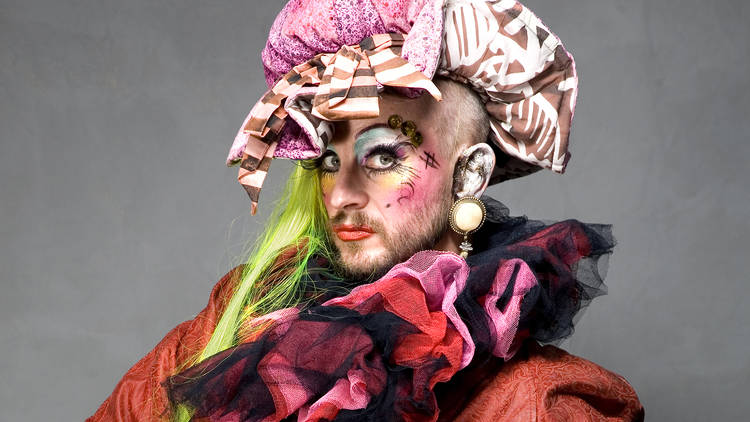 Jonny Woo. Photo: Jorge Monedero

But perhaps the most prominent example of alt-drag is Eurovision winner Conchita Wurst. Russia's fury at her triumph was fantastic and hilarious. Indeed, it is hard to know what was more amusing - the sight of Russian heterosexual men frantically shaving their beards off to distance themselves from the fabulous drag queen, Tom Neuwirth, or the predictable vitriol spouted by the Russian Orthodox Church.
 

Conchita Wurst performing in Poland, 2015. © Praszkiewicz.

Vladimir Legoyda, chairman of the church's information department, heralded Conchita's performance – and the world's enthusiastic reception of it – as an "abomination" – evidence of the planet's moral decline, and one which 'the results of this competition bear witness to'. Surely, the supreme irony of being condemned by men wearing dresses that make Shirley Bassey look understated can only be taken as the highest form of praise.

Shows like RuPaul's Drag Race have brought gender play into our living rooms, and consequently, have the potential to change attitudes. But it's always those who opt for their own twist on alt-drag, that are the most interesting. But here lies the power of alt drag over a more traditional kind of drag. The vision of a 'bearded lady' play havoc with people's minds; it's not so easy to categorize such a performer, to place him in those neat little boxes that mainstream, heteronormative society need to feel comfortable and secure. These outsiders transcend definitions of gender, reminding us that the strongest and most indelible political statements are made when we refuse to blend into the norm.