Barry Jenkins' Oscar-winning film Moonlight is the finest LGBT-themed film in years – and essential viewing, says Gays.com's Alex Hopkins.

Growing up gay is still difficult – but growing up gay when you're black and working class in the US can be lethal. This message is at the core of writer/director Barry Jenkins' mesmerising new film 'Moonlight' – a remarkably accomplished coming-of-age tale which is both emotionally devastating and life-affirming.

Based on Tarrell Alvin McCraney's play, 'In Moonlight Black Boys Look Blue', the story follows Chiron, who from the outset is a pariah: a lonely boy on the run from school bullies in a desolate, tough neighbourhood. Home life with a crack-addicted mother (Naomie Harris on blistering form) offers no solace. The only father-figure he has is local drug Lord, Juan (Mahershala Ali, Oscar Winner - Best Supporting Actor).  In one of many vividly tender moments, Juan teaches Chiron to swim after warning him that at some stage in his life he must find the courage to be who he is meant to be.  A mantra which Chiron will grapple with throughout this superb film.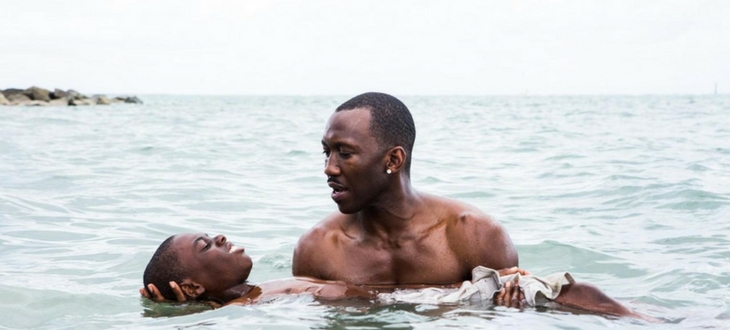 Scene from the movie 'Moonlight' 

The film is divided into three segments, 'Little', 'Chiron' and 'Black', titled after the names which Chiron is given throughout his life.  In the opening section – 'Little' – Chiron is played by Alex Hibbert. We first see him as he takes refuge from his persecutors in an abandoned house. Here he is found by Juan, who takes him under his wing. The problem is that Juan sells Chiron's mother drugs. In a typically brief but shattering scene, Chiron confronts Juan about his life. "You sell drugs to my mum, don't you?" he says flatly. Juan nods, dropping his head in shame, floored by the innocence of this lost, tiny boy. In this moment of emotional genius, Jenkins seamlessly encapsulates everything there is to say on the cycle of drug pushing, poverty and degradation.

As Chiron grows older, life is made worse by his fellow pupils who pick up on him being different before Chiron can even understand it himself. The school playground is deadly, patrolled by security guards, and the taunts frequently become beatings. There is, however, one spot of optimism amongst the bleakness: another school kid called Kevin. He and Chiron become close; they wrestle; they share cigarettes – and a sexual awakening in the moonlight on the beach will haunt both boys for the rest of their lives.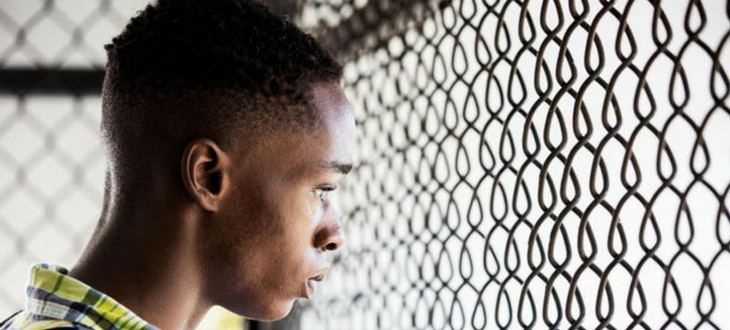 Scene from the movie 'Moonlight' 

In this toxic world of crime, machismo and survival, there can be no future for this love that dares not speak its name – a love which Jenkins repeatedly tells us is demonised in black working class culture. Chiron and Kevin are ripped apart by Chiron's chief-tormentor, Terrel (Patrick Decile). 

When we next meet the now adult hero, he has morphed into a carbon-copy of his mentor, Juan. A drug dealer with the body of warrior hiding a frightened soul inside – the forgotten, screaming part of himself which with every passing year and lost dream, falls a little more to pieces. How, you ask yourself, can all this turn out to be anything but bad?  But then – in a film which steadfastly crushes stereotypes – Director Barry Jenkins defies all expectations. 

The final section – 'Black' – in which Trevante Rhodes (in an Oscar-worthy performance) now plays Chiron, rises to heights of extraordinary beauty. The last moments between Chiron and Kevin are so fraught with regret and yearning that one almost wants to turn away – yet it is impossible to do so, for by now the hypnotic spell of this majestic film is complete. 

'Moonlight' is not just the finest LGBT-themed film in years, it's a hugely important political statement on the confines of race, black culture and queerness – but more than this, it's a testament to the redemptive power of love – and the triumph of hope and courage over fear, hatred and suffering. It will stay with you forever.