Gay men are no strangers to cosmetic surgery - just look at the new trend for anal botox! Alex Hopkins speaks to guys who have had Botox, fillers – and more. What are the options available – and what results can you expect?
James Carpenter, 45, is a receptionist and one of the thousands of gay men in London who has opted for Botox – by far the most popular facial procedure - to maintain his looks. "I started it when I was 40 as I was getting frown lines and wrinkles around my eyes," he says.

James now estimates that he has spent over £3,000 on Botox. "I'd say that it's very addictive. I get it done twice a year and have now asked for lip fillers, but my doctor won't do it as she thinks I will look weird!" I am also thinking of having a hair transplant."

For James, however, he believes the money has been well spent. "It's made me much more confident. No one wants to see a wrinkled receptionist," he laughs. "There are massive pressures on gay men – similar to those on women – to keep looking youthful – more so, now, I think, than there has ever been."
 
"For gay men, age is a cruel joke."
Andy Peters looks a good decade younger than his 56 years. He is always immaculately groomed and knows, as a beauty writer, where to find the very best products. Andy has, however not delved deeply into the realms of cosmetic surgery, stopping at Botox and fillers  - which he began having at the age of 32. "Being fabulous starts with an injection, darling," he says, estimating that he spends about £1,000 a year on Botox.

"If your home is not looking its best, you fix it, don't you?" he says. "It can become an addiction in some. I think having Botox three times a year is enough.

"But the gay scene is so ageist and the pressure to remain what they call a 'twink' is unhealthy. It's a huge issue. As Francis Bacon said, age for gay men age is a cruel joke."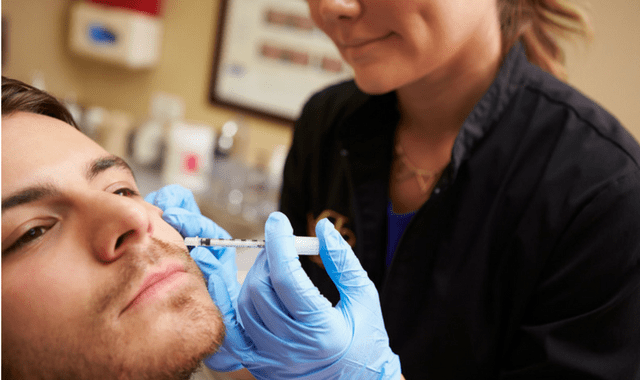 Would you have botox?
 
"No more Turkey neck!"
Some gay men, however, opt for more extreme surgical procedures. RSP, 68, works as a drag queen and believes he has spent around £19,000 on surgery, Botox and fillers overs the years.

RSP first had Botox and fillers in Thailand six years ago. "The fillers that filled in the lines from my nose down to the corners of my mouth were very painful, but over the years, as the Resticilin dispersed and the new collagen stimulated, the area has been left line free. The Botox left me a raised eyebrow (think Roger Moore) for a few days," he laughs.

However, RSP would later – to his astonishment – find that he was immune to Botox, so he decided the best anti-ageing option was to have a lower face and neck lift, which set him back £9,000.

"It wasn't painful, but it was terrifying," he explains, "especially for the first couple of nights when your face is bound up tightly, your ears are full of blood, you're deaf and look like a bloated football - a ghastly experience.

"Three months later I still have slight ridges in my very tender neck which makes shaving difficult, and I have no feeling in the side of my face. I was told that this is due to nerve end damage and feeling will return. The result of this surgery is that I have lost the horrid 'turkey neck' and my lower face has lost the 'marionette mouth'.  Money well spent," he concludes.
 
The Harley Street Clinic's view
Vie Aesthetics, who has a clinic in London's Harley Street, offers all medical aesthetic procedures to men, from toxin injections to fillers to collagen stimulation, thread lifts, as well as non-surgical excess eyelid skin removal.

While Botox remains their most popular procedure, more and more men are also opting for under-eye filler to remove bags and 'thread lifts'. Excess skin is removed by plasma fusion (the device is called PlexR) without cutting, with results comparable to surgery.  

The process can be further enhanced with injectable collagen stimulating fillers, as well as threads and the additional potential benefit of anti-fat injections (these tighten the skin too). Mesotherapy injections also provide the skin with nutrients to restore firmness and elasticity.  
 
Do It Yourself: the home options that work like Botox
Hyalual Daily Deluxe: gives you an instant lift and makes your skin look like you have just had a facial.
Dr Gabriela's Magic Beauty Facelift Serum: instant face lift in a bottle.
Skinade: This drink will not only make you feel better but lifts your skin and diminishes fine lines.
Balance Active Formula Wrinkle Freeze Serum: an inexpensive version of instant Botox!
Have you had plastic surgery? Were you happy with the results?  Or are you considering cosmetic surgery? Share in the comments below.