It's getting rather boring in the bedroom. In fact, it's got to the point where you're sitting there in your thermals watching reruns of RuPaul's Drag Race – or, even worse, Bette Davis movies. Gays.com looks at how injecting some role play in the bedroom could put some spark back into your relationship.
Teacher and Pupil
Who didn't have a crush on a hot teacher at school? There are, of course, laws against fulfilling these desires – but nothing to stop you acting them out in later life. Bend me over the desk, professor, and punish me with your 12-inch ruler, I've been such a very naughty boy and need to learn some good old-fashioned manners - the hard way!
Priest and Sinner
Ok, so you may be able to remember a fit teacher, but a parish priest you'd happily get on your knees for? Not so likely. But the great thing about fantasy is that it makes even the most unlikely scenarios possible – so stick out your tongue and have a taste of the real body of Christ! Grab a good leather flogger, chuck those rosary beads up your shoot and stick that crown of thorns round your shaft – you'll be admonished for all those sins in no time at all. 
Policeman and Suspect
Handcuffs, an oversized black baton and a throbbing, still hot car bonnet - well, you know the rest. Why not then take things to the next level? You've been banged up – literally – and you sure ain't gonna get an easy time in the slammer – especially in the showers.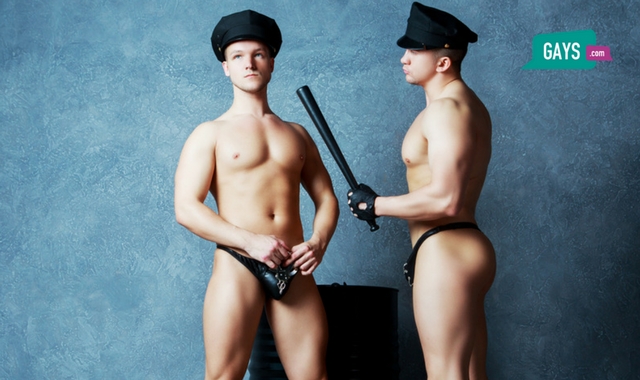 Take things up to the next level with a throbbing baton 
Doctor and Patient
You've seen the anal sex toys which resemble medieval torture devices – now all you need is an expert medical practitioner to show you exactly how to use them. Get your legs in those stirrups and brace yourself, he knows exactly what he's doing…
Coach and Player
Twisted power dynamics are central to all types of role play. Become the lazy quarterback who is in urgent need of some extra practice from the sweaty coach. Or flip it and give the referee a very red card. These are great for gangs too: all those locker doors being swung open wide…
Or how about something a little more unusual…?
Pup and Handler
Barking, sniffing, biting, shitting – yep, whatever turns you on really. You can make 'pet play' as complex as you like – and throw in as many demands -sit, kneel, beg - as suits. Then, of course, there are all the dodgy gimp masks you can wear, which can be adapted for practically any animal – you sex beast! 
Batman v Superman
Or, in other words, who is going to get their back doors banged in here? It's a fight to the last, and there can be only one victor. Check out this porn parody to see what can happen…


 
Merman and Fisherman
As a kid, didn't you want to be Daryl Hannah in the movie Splash, saved by that hot…ok, well maybe not Tom Hanks, but you get the drift. You'll do anything to be rescued by that fisherman with his humongous hook…
Santa and Naughty Child
Forget being good – what you want is to be on his naughty list and have your stocking stretched to breaking point. Big beards and even bigger balls equal the ultimate Daddy fantasy. Now be a good boy and sit on my knee while I have a rummage with my sack.