Judy Garland is possibly the greatest gay icon of all time. Gays.com's Alex Hopkins talks to Ray Rackham about his new West End musical, Judy!

"What actually was to have been a concert – and was – also turned into something not too remote from a revival meeting," said the New York times on Judy Garland's legendary concert at Carnegie Hall on April 23rd, 1961. 

The reviewer was on the nail. Listening to the live recording of the show now, the love of the audience – so apparent in the seemingly endless applause - is almost overwhelming – and deeply moving. It's also fair to say that a considerable proportion in attendance at this "revival meeting" were gay men coming to pay homage to a woman they regarded as little less than a goddess. 

Almost 48 years after Judy Garland's death, the tumultuous life which so spoke to legions of gay fans is about to come under the spotlight once more in an extraordinary new West End musical.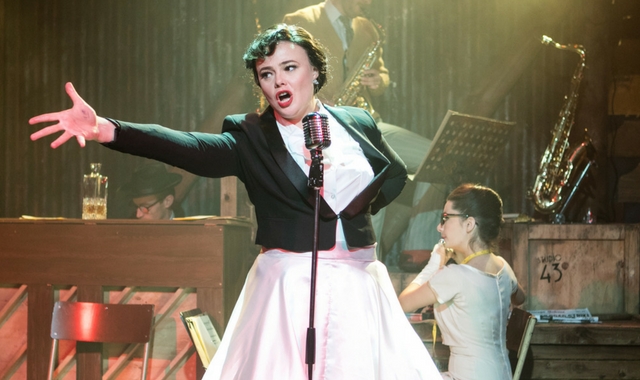 Belinda Wollaston in Judy!  Image courtesy of: The Arts Theatre, London.

Ray Rackham's Judy! was first seen in London under the title of Through the Mill back in December 2016 at the London Theatre Workshop.  The play was so well received that it transferred to The Southwark Playhouse - and on May 16th will move into its new home, The Arts Theatre, only yards from the former Talk of the Town, where Garland made some of her most famous London appearances. 

Rackham's show is set just a few years after Garland's Carnegie Hall triumph, as she enters yet another bumpy period in her life, the filming of the short-lived The Judy Garland Show for TV - a medium which the star swore she'd never embrace but was forced to appease the taxman. 

"Judy certainly has a continuing appeal to the gay community, but I think that appeal transcends mere fandom and is grounded in a much deeper love, within the community, for who Judy was and what she represents," says Rackham. 

"Her personal struggles seem to hit a chord with anyone facing adversity. Judy was a survivor, and I believe she has a deep connection with people who feel disenfranchised or unloved because she met the many tragic elements of her life head on, and treated them with a smile and determination to not let the tragedy beat her."

Rackham's show is unique in that it features three actors playing the star at distinct stages of her career: Wizard of Oz ingenue (Lucy Penrose); mid-career concert superstar (Belinda Wollaston) and, finally, the desperate but still proud and fierce figure battling rapacious TV executives (Helen Sheals). 

While Garland's addictions to booze and pills are well documented, Rackham was determined to highlight the positive life force which repeatedly saw the diva defying all odds by making one momentous comeback after another. "Judy crammed many lives into her 47 years," he explains, "and in choosing three of those very distinct, yet eerily similar, moments in her life, I'm hoping to go beyond the mythical elements and find some universal truths."

The evening will feature songs from Judy Garland's vast and eclectic songbook, each carefully chosen to illuminate the audience's understanding of her complex personality. "I want people to have a new-found love for Judy once they've seen the show, and to have remembered their love for Judy in her many different guises – but, crucially, to have learned a little more about the real person behind the legend too. 

Elaine Stritch once, rather famously, said 'there's a little bit of Judy Garland in all of us', and I believe that to be true. Let's remember the legend and the lady; because she was, to coin a Judy phrase, quite marvellous."

Judy! is at The Arts Theatre, London, WC2H 7JB, from May 16th to June 17th.