In 2009 and 2010, Gays.com collaborated with the Committee for the International Day Against Homophobia, Transphobia and Biphobia (IDAHO or IDAHOT) to launch two awareness projects, The IDAHO Challenge and The Great Global Kiss-In.


The IDAHO Challenge saw Gays.com reach out to its tens of thousands of members and LGBT people everywhere to record a video of themselves (in their language) introducing what country they're from, and how proud they are to be gay, lesbian, bisexual or transgender.  Released on May 17, 2009, to coincide with the launch of Gays.com, the video spread the message that LGBT people are present in every country and society across the globe.





For the seventh annual IDAHO event, The Great Global Kiss-In was a series of planned public displays of affection that took place in over 60 cities across the globe including London,  New York, San Francisco, Chicago, Tel Aviv, Sydney, and Glasgow.  The events were staged as a kiss-in flashmob to celebrate love and equality and were a huge success. Thousands of people took part in kissing their way to raise awareness for international LGBT rights.




IDAHO founder Louis-Georges Tin said, "In our battle to tear down the walls of homophobia and transphobia, it is of vital importance that we have people who are willing to put their face to what we are fighting for. This campaign is a call for everyone to come out from wherever they are and get your voice heard."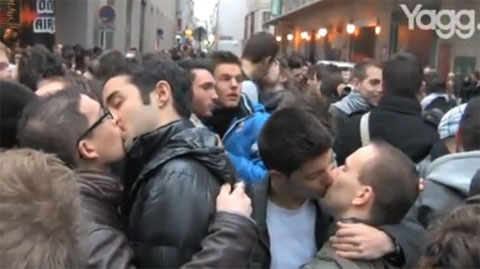 People getting loved-up at The Great Global Kiss-In.
Kenneth Tan from Gays.com said, "Here at Gays.com, we are all about fighting the culture of anonymity that is so pervasive on the gay internet landscape. With this project, we want to challenge members of our community to step out of their virtual closets."  He added, "It's vital that those of us who live in places of peace and freedom come out in solidarity with our brothers and sisters who, based on where they live, risk abuse, jail, torture and the death sentence if they do come out. It is our hope that we will represent every country in this video."


Founded in 2004, The IDAHO Committee aims to draw attention to policymakers, opinion leaders, the media and the public of the violence and discrimination experienced by LGBTI people across the world. The committee has been a key player in drafting the United Nations statement, which urges the decriminalization of homosexuality in every country.

IDAHO is celebrated every year on May 17 in more than 130 countries.