Sex in long-term gay relationships goes off – it's inevitable. But why not spice it up with some kink? Kinky gay roleplay is a great place to start. We give you ten sexy scenarios...
1. Building site 
Who hasn't been turned on by the sight of half-naked builders banging away at some scaffolding on a swelteringly hot day? Just the sign 'danger, men working overhead' is enough to make some gush like an angry geyser. 
Why not become the willing apprentice to your brutal builder? Charge up that power drill, get grunting 'n' spitting as only builders can, and brace yourself for a damn good sanding down.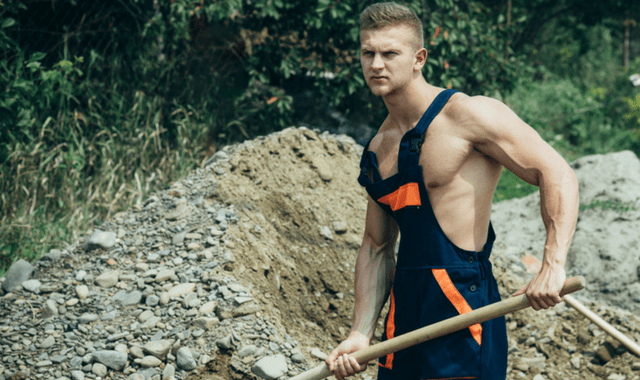 Why not become the willing apprentice to your brutal builder?
 
2. Sports roleplay
Sports is one of the most popular gay roleplay areas – and there are endless scenarios you can think up, depending on your kinks. Want to get sweaty with your fantasy coach? Let that Major League hunk knock your balls right out of the park.
Then there are the unspeakably depraved antics you can get up to in the changing room: kinky initiation rituals following pervy soccer practice, to name just one. What won't you do to get on the team? Sportswear is a huge fetish – check out our article here for inspiration.
 
3. Doggy action
How about pup and handler? You choose your preference, depending on whether you're dominant or submissive.  Collars, barking, sniffing, kneeling, sitting – even pissing. Just think of all the things a dog gets up to, cock your leg in subservience and await the imperious tones of your Master.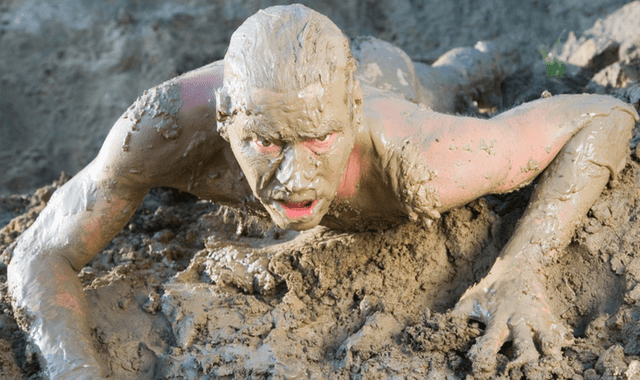 Get into some really messy roleplay.
 
4. Filth down the farm
Oink! Oink! Yes, pigs are utterly filthy. It comes naturally to them to roll around in their own piss, shit and any other fluid they can coat their slimy skin with. Do we really have to point out what this gay roleplay is about? We think not!
Know what you're getting into with bareback sex, scat, and piss play. Check out our sister site Fetish.com for tips on being safe as well as hot.
 
5. Desiring Doctor
Now, this is an infamous gay roleplay. Who didn't play doctors and nurses – or doctors 'n' doctors - at school? Again, select your BDSM role based on whether you're a sub or Dom.

That dastardly doctor is, of course, in charge. Just look at the rampant chest hair bursting out from behind that white coat. Get wet as he slinks on those latex gloves. Lie back, get those legs in stirrups and revel in the probing of a lifetime. That thick thermometer is going to heat up to all hell.
 

Doctor / Patient roleplay? That dastardly doctor is in charge.
 
6. Armed and dangerous
Forbidden situations are ripe for gay roleplay. For many years, the armed forces had major issues with gays in the military. That, of course, only fuelled our fantasies.

Drop to your knees and give your superior's boots (and baton) a thorough polishing. But be warned, that drill sergeant has some heavy artillery. Can you handle multiple munitions?
 
7. Ransom ready
Or how about a bit of kidnap for gay roleplay? Hot foot down your local DIY store, stock up on duct tape and rope and dive right into those ferocious pre-roleplay negotiation talks. Then face the next three days back in the closet. We know you'll submit to anything to be let out. 

As with all BDSM, this gay roleplay gets as extreme as you like. Fancy a very public kidnapping. Set up a scene whereby he bundles you in the boot of his car while you're on your morning walk. When it comes to bondage, safety is key. Ensure you set your limits rights from the start. 
 

Kidnap roleplay? Yes please! Get that rope out and practice your bondage skills. 
 
8. Sex on the beach
Thinking outside of your box, how about Merman and Fisherman? No, bear with us… Remember that film Splash with Daryl Hannah and Tom Hanks, where he rescues the mermaid in peril? You've got the basics right there.

Tap into all those teenage fantasies about hot lifeguards. Get washed ashore with your desires and then miraculously saved by the fisherman with the massive rod. You'll be dangling from his hook in no time.
 
9. It's a fair cop…
You've been a very naughty boy – and need to be taught a lesson. Punishment is one of the fundamental tenets of BDSM. Let that burly officer slam you against the bonnet with his beef bayonet.

Handcuffs, uniforms, truncheons for some impact play, batons (read dildos!) and a prisoner who will do anything for parole. For all the inspiration you need, check out Tom of Finland's police scenarios.
10. Wildest fantasies
Gay role plays can be as varied and extreme as you like – if you've discussed things carefully and agreed on safe boundaries. Fantasy characters have become big in recent years – just look at all the anime porn and video games out there. Why not bring some of these hot scenarios into your gay roleplay? With a bit of makeup and even prosthetics, you can become whoever you want to be!
Has this whetted your appetite for kink? If so, visit our sister site Fetish.com and connect with a whole new kinky community. Looking for someone to explore any of these sexy roleplay scenarios? Check out hundreds of hot profiles on Gays.com.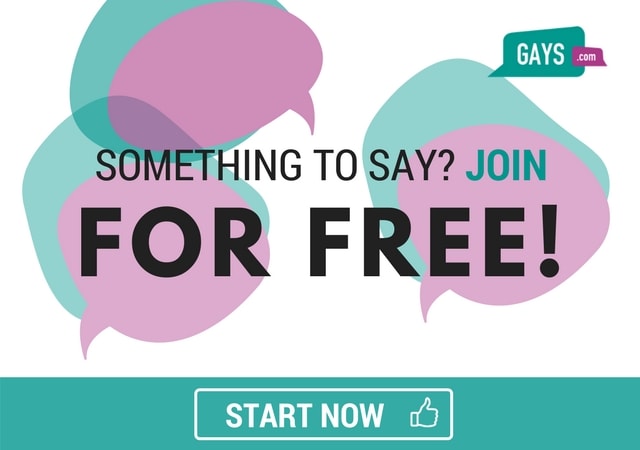 Images: Shutterstock.com
 
4